Dell teases Venue 8 7000, thinnest Android tablet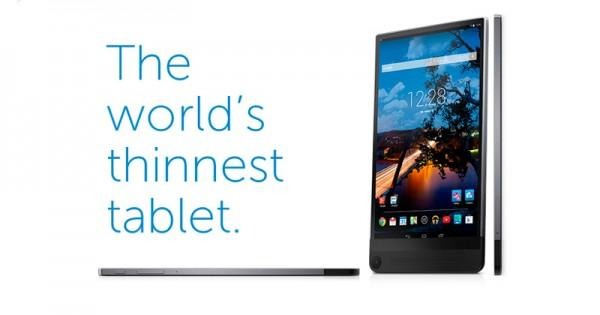 If you thought only smartphones were in that insane race for the "world's thinnest" title, wait until you see what Dell is trying to sell. The new Dell Venue 8 7000 series, which the company is showcasing at the Intel Developer Forum, has a screen size of 8.4 inches and boasts of a profile that is only 6 mm thick. Or rather, thin.
It is perhaps harder to get tablets down to that dimension, with all the bulkier components you have to put in. In June, Samsung was boasting of its new Galaxy Tab S, which it claims to be one of the slimmest tablets in the world thanks to the use of Super AMOLED tech instead of LCDs. But even that reaches 6.6 mm. Then at IFA 2014 last week, Sony indirectly took a stab at that title with the Xperia Z3 Tablet Compact, another 8-incher that gets to 6.4 mm. So, yes, unless some other manufacturer comes up to challenge, Dell might have that title bagged. At least for now.
The Dell Venue 8 7000's screen might not be the same Super AMOLED as Samsung's, but it is also OLED, so you get almost the same benefits of that technology. The 2560x1600 screen resolution is also a great bonus which goes well together with the Dell Gallery app that the company is showing off. And you might be spending a lot of time in that app, considering one special feature that this tablet is trying to sell: Intel's RealSense snapshot.
RealSense is Intel's new fancy digital photography tech that creates a depth map of an image. What this means is that tablet will have a rudimentary understanding of the positions of objects in 3D space and not just a flat 2D plane. In practice, this means that you will be able to change the focus of a photo after it has been taken or measure objects in a photo. Basically somewhat the same features that can be found in something like the HTC One M8 and its Duo Camera setup, but without the need for two cameras.
The rest of the details about the Dell Venue 8 7000 are still unknown, other than it will be running on an Intel Z3500, which means a quad-core CPU running at a range of 1.33 GHz to 2.33 GHz, depending on the exact model used. Intel says the Android tablet will launch in time for the holidays, so we will most likely hear more details before then.