Dell SX2210T multitouch 1080p LCD unearthed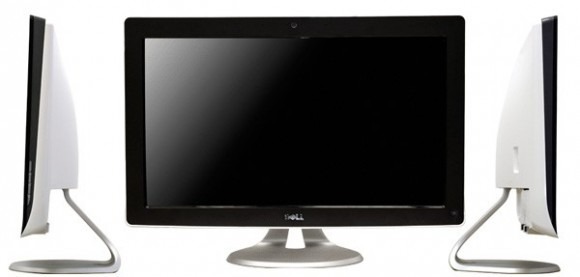 Details on an upcoming 21.5-inch multitouch monitor from Dell has opened up the possibility a multi-finger gestures upgrade for those not wanting to change their entire PC.  The Dell SX2210T was spotted in among the manufacturer's online documentation, and is poised to take advantage of Windows 7's multitouch support.
Connectivity includes much of what you'd find on Dell's SX2210, with HDMI, DVI and VGA ports, three USB ports (and a USB upstream port that not only hooks up the hub but presumably the multitouch touchscreen layer too) and audio in/out.  There's also a 2-megapixel webcam in the upper bezel.
As for panel specifications, the SX2210T runs at 1,920 x 1,080 with 220 cd/m2 brightness and 1,000:1 contrast ratio.  The touch-panel uses optical touch and has a 2.5mm thick chemically toughened glass layer; accuracy is to +/- 2.5mm over 95-percent of the surface.  Unfortunately the stand doesn't look as though it will rock backward far enough to make everyday use comfortable.  No word on pricing (the non-touch SX2210 goes for $279) or availability, but with Windows 7 set to make its official appearance tomorrow, October 22nd, we can't imagine the Dell SX2210T will be far behind.
[via GottaBeMobile]