Dell SX2210 22-inch 1080p LCD: March 20th for $280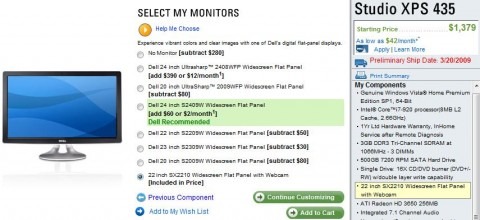 Dell may have inadvertently unveiled their Studio XPS 435 desktop the day before its official launch, but it's not only the uber-PC that was new.  Starring with the XPS 435 was a hitherto-unseen LCD display, which we now know to be the Dell SX2210, a 22-inch widescreen display capable of full-HD 1080p resolution.  Best of all, it's available as an option when the XPS 435 PC ships.
According to the SX2210's manual, which is already up for grabs [pdf link] on the Dell site, the SX2210 backs up its 1920 x 1080 resolution with a 1000:1 dynamic contrast ratio, 2ms response time and 300 cd/m2 brightness.  There's also an integrated 2.0 megapixel webcam and 160 degrees horizontal / 170 degrees vertical viewing angles.
While the SX2210 product page doesn't list pricing (or even an image), the customization pages for the Studio XPS 435 gives both.  The Dell SX2210 will be a $280 option with the XPS 435, and available on the same March 20th ship-date.
[via Engadget]