Dell Streak 2 M02M spotted in testing: Opus One or Looking Glass?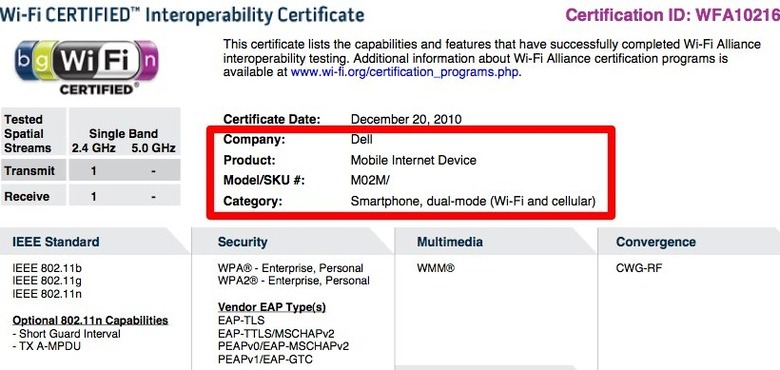 Dell's second-gen Streak tablet has seemingly passed through WiFi certification, with the Dell M02M spotted getting a test certificate. Though the Streak name isn't mentioned, the M02M product code is one digit away from the original Streak's M01M, and it is described as a "mobile internet device" with WiFi b/g/n.
There are two likely options as to what device this could actually be. Firstly, it might be the Streak 2 aka the Dell Opus One, believed to keep the same form-factor and 5-inch screen size of the original Streak, but upgrade the panel to a higher resolution and slot in a dual-core processor instead of the first model's single-core 1GHz Snapdragon chipset.
Alternatively, the M02M could be the larger, 7-inch tablet, the Dell Looking Glass, which Michael Dell briefly showed off back in September. That was later tipped to be available imminently by the WSJ, though failed to arrive on the market.