Michael Dell Hints at 7-Inch Android Tablet, Leaves Out the Details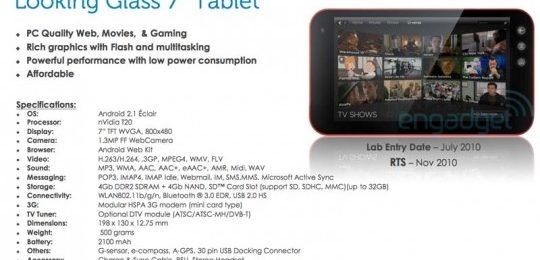 The Dell Streak hasn't been out all that long, but we already know that Dell's hard at work at a whole range of other "tablet" devices. And it looks like the company's Chief, Michael Dell himself managed to tease, hint, and otherwise add some speculation about an upcoming 7-inch tablet, which will feature Google's mobile Operating System, Android. Unfortunately, the details are pretty much non-existent.
The Dell Streak, the current tablet offering from Dell running the Android platform, is available internationally right now, as well as on AT&T here in the United States. It features a 5-inch touchscreen display, as well as Android, so the guessing game has already begun on what this somewhat larger tablet device will be called. Pricing and availability were also mischievously left out, so that could be any time in the future at this point.
It's quite possible, though, that we've actually already seen what this supposed 7-inch Android-based tablet looks like. We may even know what it's called, actually. A few months back, several internal documents from Dell leaked and showed off plenty of upcoming devices. One of those was a 7-inch tablet called the Looking Glass. It's possible that Dell was talking about something else, though. We'll just have to wait and see.
And perhaps not as exciting, but Dell also confirmed that the smaller Dell Streak would be made available in Best Buy locations "soon." No further details than that, but at least we can probably expect the 5-inch tablet to show up in the tech retailer probably before Christmas, right before that holiday shopping spree.
[via The Wall Street Journal]