Dell 7-inch Android tablet imminent; 10-inch slate in 6-12 months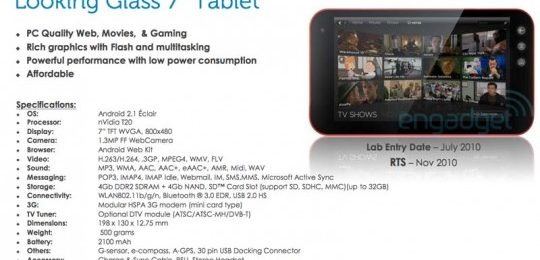 Dell's larger tablet plans have been confirmed, with Dell Greater China President Amit Midha revealing that the company's 7-inch slate will drop "in the next few weeks" while a 10-inch Dell tablet will follow on in 6-12 months.  According to the WSJ, Midha revealed in an interview that Dell has "a whole slew" of new products for release in the next twelve months, including 3-, 4- and 10-inch devices.
"It was showed off at Oracle World by Michael last week and we'll be launching very, very soon—within the next few weeks ... In fact, very much in the near future we'll be launching the seven-inch tablet as well as the additional three-inch product." Amit Midha, President, Dell Greater China
Interestingly, while the 7-inch Dell tablet will run Android, Midha also revealed that Dell will be using Windows on some of the other products.  He declined to specify which, exactly, and said that the company is still evaluating Google Chrome OS for possible adoption.
Michael Dell publicly – and briefly – showed the 7-inch model last week though failed to attach any timeline to its release.  The slate is believed to be the "Looking Glass" model tipped in earlier leaks, with NVIDIA's Tegra processor and a WVGA display.