Dell Latitude XT2 on sale at Amazon: $2,459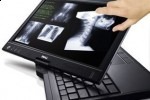 We may receive a commission on purchases made from links.
The Dell Latitude XT2 Tablet PC has gone on sale through Amazon.com, priced at $2,459.  Announced back in February, the Latitude XT2 uses a 12.1-inch WXGA (1,280 x 800) multitouch-capable capacitive touchscreen, paired with Intel's Core 2 Duo SU9400 1.40GHz processor and 2GB of DDR3 memory. 
There's also a 120GB 5,400rpm hard-drive, WiFi a/g/n, Bluetooth and an ExpressCard slot.  The Amazon seller also includes a DVD burner E-Module, allowing for software installation and easy backup to CD and DVD, which explains the slightly higher price tag than the $2,399 we've seen previously.
Early hands-on reports of the Dell Latitude XT2 were glowing, with the capacitive touchscreen receiving particular praise.  As well as responding to finger-touch input (including gestures such as pinch-and-spread zooming, and rotation), the XT2 also ships with a special battery-free EM stylus for precision work.  According to the seller, the Latitude XT2 should ship within 6-10 business days.
[Thanks Ron!]