Dell Inspiron Duo hands-on [Video]
Dell's Inspiron Duo convertible hybrid netbook/tablet made waves back at IDF 2010 in September, and is fast approaching for an early December launch in the US and Europe. We caught up with Dell today to grab some hands-on time and see whether it's possible to deliver the portability of a tablet with the usability of a netbook, all with Windows 7.Video demo after the cut
As announced earlier this week, the Dell Inspiron Duo will go on sale from $549 with Intel's dual0-core Atom N550 processor, 2GB of RAM, a 250GB hard-drive and Broadcom's Crystal HD video accelerator. The display itself is a 10.1-inch panel running at 1366 x 768 resolution and using a capacitive touchscreen layer.
Dell Inspiron Duo hands-on:
[vms e00204c3ca7c6a3150cf]
First impressions are that it's not the lightest tablet we've played with. As a netbook, it's reasonable, but flip the display around and the form-factor is chunky and heavy. Comfortable to rest on your lap on the sofa, perhaps, but this isn't the mobility device for use while walking. It's a shame, as Dell's choice of grippy rubber for the casing makes for an easily-held machine with none of the fear over it slipping out of your hands as you might have with the iPad or Galaxy Tab.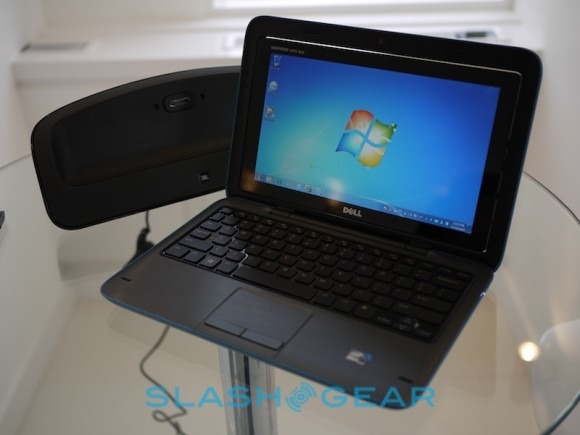 The display looks small compared to the chassis, thanks to the double-bezel, though Dell's choice of panel is bright and clear. The touchscreen, too, seemed reasonably responsive, though some of Windows 7's smaller icons proved tricky and we resorted – in netbook mode, anyway – to the trackpad instead. As for the QWERTY keyboard, that's a solid chiclet style and held up well to some rapid-fire battering. What you don't get is a capacitive stylus (or, indeed, an active digitizer) to take advantage of Windows 7's handwriting recognition.
This particular Inspiron Pro unit is pre-production, running unoptimized software, and so it's hard to tell exactly how the netbook will perform. As it stands, it was a sluggish and disappointing experience running Dell's custom UI apps, but we're told that will all change before the tablet hits shelves. Dell's finger-friendly interface automatically kicks in whenever the screen is rotated into tablet orientation, and supports both portrait and landscape orientations. When it's finished, it will have music, video, photo and ebook browsers, together with internet access, though it's unclear how much changed the browser UI will end up being.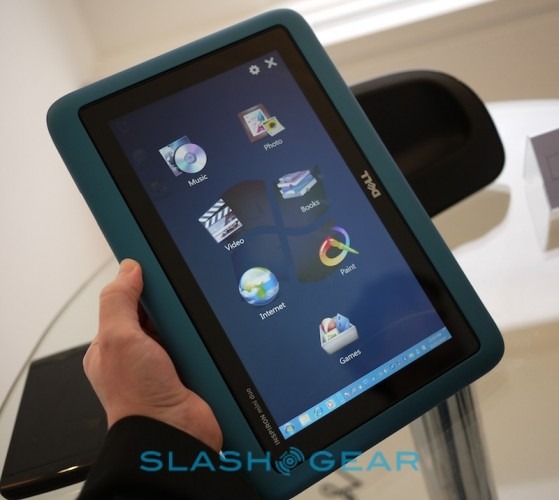 The Inspiron Duo scored 2.4 in the Windows 7 Experience ratings, helped by its 2GB of RAM and Broadcom HD video chipset. Unfortunately, that video acceleration is somewhat wasted since there's no video output on either the Duo itself or the optional speaker-dock. The tablet gets power, two USB 2.0 and a headphones socket, while the dock – complete with JBL speakers – has a multiformat memory card reader, two further USB 2.0 ports, audio, ethernet and power. No HDMI or even VGA, as you'd expect to find on even the most basic of netbooks. We'd loved to have seen a wireless video connection between the dock and the Duo, for streaming content to your TV, but it seems that's not on Dell's agenda.
With an estimated 4hr battery life and a reasonably tubby body – for a tablet – the Inspiron Duo feels more like an at-home machine than suited to frequent-flier mobility use. It's too early to say how well the dual-core Atom and Windows 7 holds up to the user experience of something like an iPad or Galaxy Tab, but there will be typists pleased to have the option of a solid physical keyboard when there's more than a few lines of text to be entered. We're still curious, but will wait until the final product drops before deciding whether the Dell Inspiron Duo offers the best of both worlds or falls short in each.