Dell Inspiron Duo And Audio Dock Up For Microsoft Pre-Order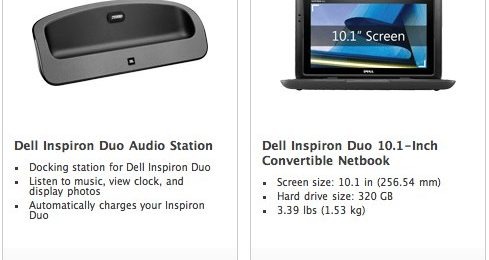 Dell's Inspiron Duo convertible netbook has found itself a pre-order listing at the Microsoft Store. The 10.1-inch netbook – which has a rotating touchscreen that can be flipped around and the laptop used in the slate form-factor – is priced at $549, while the Dell Inspiron Duo Audio Station dock is $49 (down from its RRP of $99).
Unfortunately neither Microsoft nor Dell is giving any sort of delivery date, so we've only got the previous, vague release window from the netbook's official reveal last week. Then, the Duo was tipped to arrive in early December, in both the US and the UK.
Your $549 gets you a 10.1-inch 1366 x 768 capacitive touchscreen, Intel Atom N550 dual-core processor, 2GB of RAM and a 320GB hard-drive. There's also WiFi b/g/n and a battery good for up to 4hrs use. The Audio Station, meanwhile, has JBL-developed speakers and various connections, and also recharges the netbook while it's docked.
[via NetbookNews.de]