Dell Inspiron Duo Official: $549 From Early December [Video]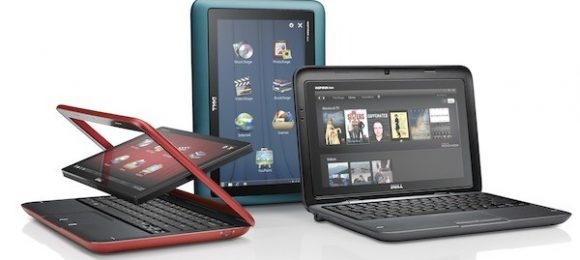 Dell has come clean on the Dell Inspiron Duo convertible hybrid netbook/tablet, which will begin shipping in the first week of December 2010. The 10.1-inch tablet will kick off at $549, which gets you Intel's dual-core Atom N550 processor paired with 2GB of RAM, a 250GB hard-drive and Broadcom's Crystal HD video accelerator; the display, meanwhile, is a 1,366 x 768 capacitive touchscreen.
Video demo after the cut
OS is Windows 7 Home Premium, but Dell has also added its own Duo Stage UI for easier access to the various multimedia functionality the company thinks will be most appealing. That means their MusicStage, VideoStage, PhotoStage and BookStage apps – the functionality of which is pretty obvious to deduce – and the UI automatically boots on top of Windows when the display is flicked round into tablet orientation.
Connectivity includes the usual netbook array of two USB 2.0 ports, a headphones socket, and power, with more options if you plump for the JBL speaker-dock ($649 for both the Inspiron Duo and the dock). That has two further USB 2.0 ports, ethernet and an audio port, along with a multi-format memory card reader. There's a 1.3-megapixel webcam, and a 320GB 7,200rpm hard-drive is optional. Battery life – from the non-removable power pack – is around 4hrs of normal use.
Dell Inspiron Duo hands-on [via NewGadgets.de]
[via PC Pro]