Dell Inspiron 910: Clearer Photos, Tiny AC Adapter Spotted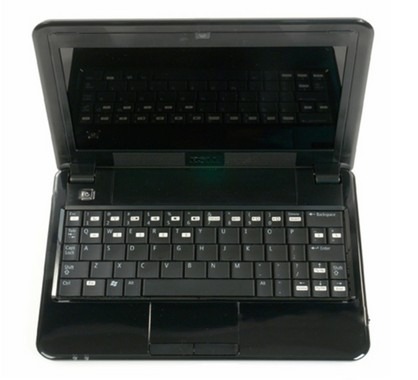 The images keep coming and the quality gets better every time; soon you'll be able to print out your own Dell netbook.  A mixture of new photos and higher resolution versions of existing images of the Inspiron 910 have shown up, giving an all-round view of the netbook's ports and lending further weight to the idea that Dell will imminently announce the 8.9-inch budget ultraportable.
Top of the concerns about the Inspiron 910 seems to be the high-gloss screen.  Glossy coatings on LCDs are a love-it or hate-it thing, and the Dell netbook's does appear, in the top shot anyway, to be highly reflective.
The expected announcement date is still this Friday, with several sources corroborating that; unfortunately the target $299 price that repeatedly gets mentioned is anything but confirmed.  Nonetheless, given Dell's strength in the marketplace and its high degree of brand-recognition, the Inspiron 910 could become the netbook to beat.
Update September 4th: Dell have officially announced the netbook