Dell datacenter-in-a-briefcase prototype demo'd [Video]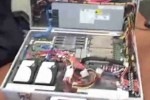 Remember the talk of datacenters-in-containers last year and earlier?  Google were even tipped to have patented the idea; now, though, a datacenter is simply too large to be fashionable, hence Dell's datacenter-in-a-briefcase.  To be fair, it's not quite the briefcase you might take on your daily commute – think 40lb toolcase instead – but that's still good enough to impress GigaOm.
Video demo after the cut
The device isn't actually the official work of Dell; it's actually the self-made prototype of one of the company's engineers, Jimmy Pike, director of system architecture at Dell's Data Center Solutions division, and he put it together in his garage.  He squeezed two servers into the box, each with dual-core 2.5GHz Intel Harpertown processors, along with 32GB of memory, 4TB of disk space for storage, a handful of SSDs for system files, a PSU and a 5-port gigabit ethernet switch.
According to Pike, the system – which requires a reasonable 325W – is perfect for use as a DNS server or a data center for a small business, and he himself uses it to prototype for custom servers for Dell's commercial clients.  He reckons you could build your own for around $2,000; more details in the video below.