Dell Canvas hands-on: Surface Studio gets a slick art rival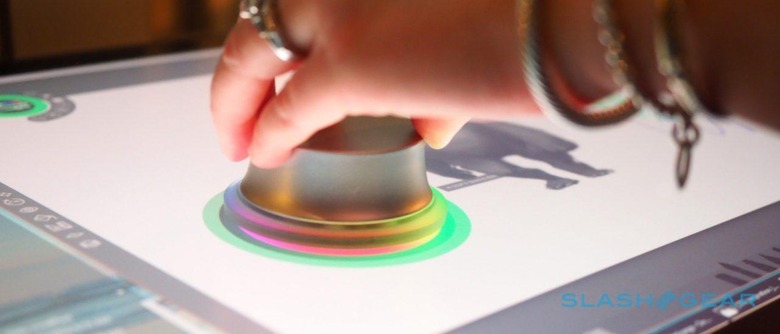 Dell may be one of Microsoft's closest Windows partners, but that didn't stop it bringing along some Surface Studio competition to CES today. The Dell Canvas may not have a built-in computer like Microsoft's posable all-in-one, but pair it with a Windows notebook – and, optionally, a second display – and you have the art hub any Photoshop pro could be proud of. I stopped by to rub my grubby fingers all over it.
First, the basics. The Canvas is basically a 27-inch LCD display, but instead of standing upright as you'd expect, it lies flat on the table. You can lay it down almost flat, or alternatively prop it up on a pop-out easel stand that's underneath.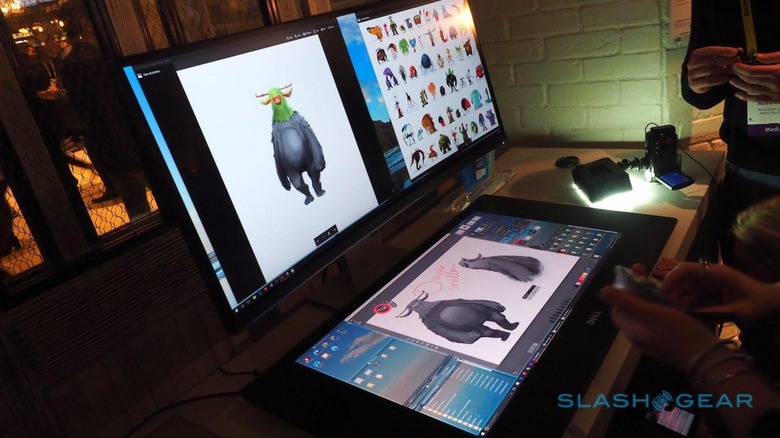 Whereas the Surface Studio is entirely self-contained, Dell is expecting Canvas buyers to have a PC to connect the display to: preferably one of its own models, of course. In the setup Dell demonstrated to me, as well as the Canvas there was a curved, non-touch 27-inch LCD monitor above it, both hooked up to a laptop. If you want a mouse and a keyboard, you can plug those in too, and there are a couple of USB ports along the right edge.
As well as your fingers, the Canvas will work with a Wacom stylus for more precise sketching. There's also a rotating knob, called the Totem, which works in the same way that the Surface Dial does: you can place it anywhere on the display, and then turn and press it to scroll and select different options. With the Totem in one hand and the pen in the other, I was able to quickly flip through different ink colors as I wrote and sketched.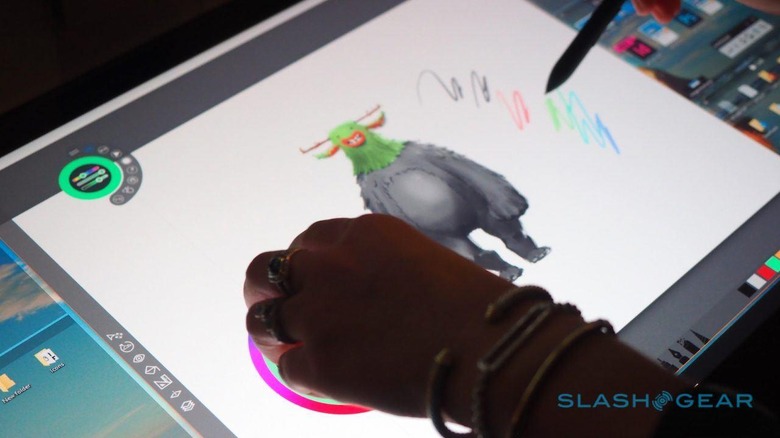 The panel itself is QHD resolution, or 2560 x 1440, and supports 100-percent of the Adobe RGB color gamut. Up to 20-point multitouch is possible, and if you have a generic Wacom pen – or, indeed, a Surface Dial, since the Totem uses exactly the same underlying code in Windows 10 as Microsoft's version – you'll be able to use that, too. If you don't have a mouse plugged in, a button in the toolbar at the bottom of the screen summons a trackpad, effectively just a black square which replicates the functionality of a laptop's touchpad.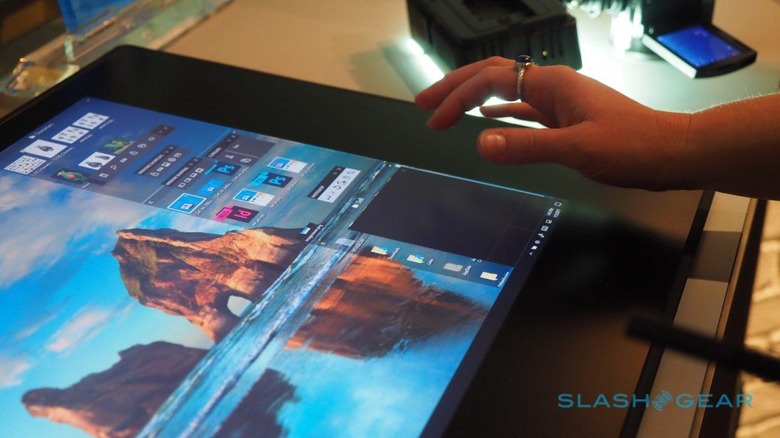 It's useful, among other things, for managing multiple displays. With the second screen, I was able to put an uncluttered version of my work-in-progress up and out of the way, along with other panes for different interface layers. Flanking each side of the central art space on the Canvas itself are windows for things like loading apps, trigging presets, and choosing various menu items. Dell supports multiple floating windows with keyboard macros mapped, for quicker access to common tasks: they're all user-customizable.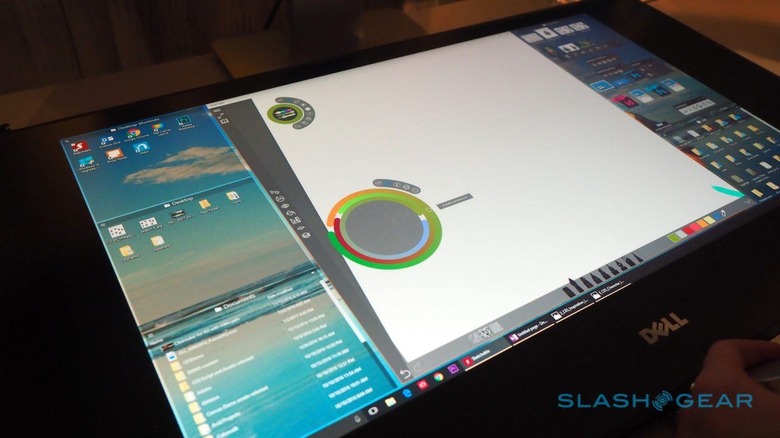 While the vast bezels around the 27-inch touchscreen might look unwieldy, in combination with the completely flat, slightly textured glass layer that tops the whole Canvas it's comfortable to lean your wrist for extended periods. Dell doesn't quite ace the ergonomics, mind: when you have Canvas tilted at an angle on its easel stand, you can't leave the Totem resting in place on the screen as it slides down. A magnetic spot in the upper corner, off the display area, holds the pen in place when you're going finger-only.
Given the number of macOS digital artists, Canvas is undoubtedly going to be looked at with curiosity from those in the Apple ecosystem. I asked Dell whether the display would work if plugged into a MacBook Pro, say, and was told that right now they weren't entirely sure. The pen likely would, at least for the most part, but since Dell is using the native touch drivers included in Windows 10 it would depend entirely on what macOS allowed if you tried to use it with your Mac.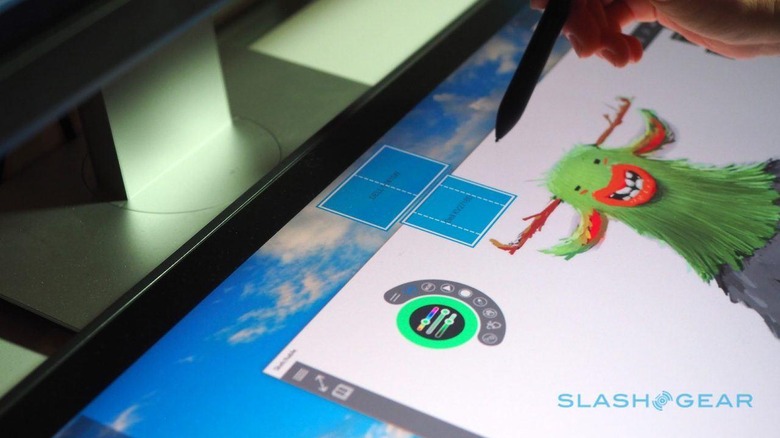 That's a disappointment – Dell's rep pointed out that they were in the business of selling Windows PCs, and thus wanted people to buy Canvas and a new Dell computer too, not to mention declining my generous offer of plugging it into my MacBook Pro to test it out – but the company told me that there'd probably be more testing before the display's full release. That should take place at the end of March, with the Canvas priced at $1,800. It's cheaper than a Surface Studio, which is around $3k, but with a lower resolution panel than Microsoft's deliciously crisp 4500 x 3000, and of course you'll need to budget for a PC too.