Dell Canvas Is A 27-Inch QHD 'Smart Workspace' Display For Artists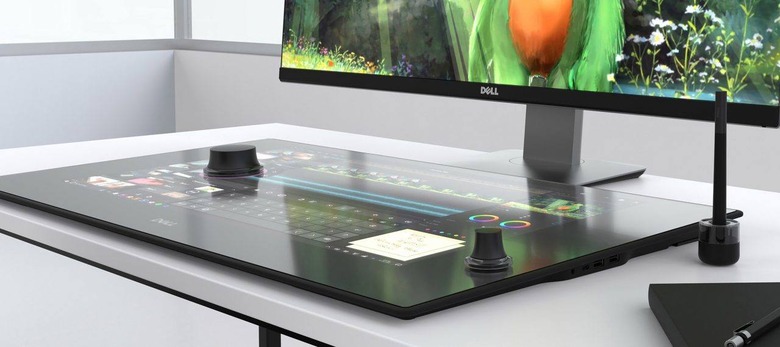 Dell has unveiled its new Dell Canvas, a 27-inch so-called "smart workspace" alternative to the Surface Studio, only without the PC aspect of the latter device. This display has a QHD resolution and is targeted at artists, among others, who may want to work on their creations in a manner similar to pen on paper: flat on their desk or worktable. Dell says the Canvas was developed in partnership with Microsoft.
The Dell Canvas is essentially a very large touchscreen monitor that users connect to their own Windows 10 PC. The unit can be laid flat on a desk, as shown in the image above, or it can be set at an angle, depending on your project and needs. This model has totem, touch, and pen support.
According to Dell, the Canvas can be powered by 'virtually any Windows 10 device,' making it suitable for a wide range of potential consumers. Further explaining this, Dell says the Canvas 'plugs seamlessly' into applications from various companies with creative-centric software, including Adobe and SolidWorks.
Ultimately, Dell doesn't position this as a clone of the Surface Studio, though it's hard not to compare the two despite their relatively substantial differences. The company plans to launch Dell Canvas in the United States through its website on March 30 with a starting price of $1,799 USD.
SOURCE: BusinessWire