Dell and Intel subscription-based tablet coming 2010 to conquer Kindle?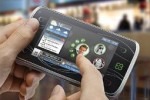 Dell are tipped to be working with Intel on a 5-inch touchscreen tablet, which will be provided free of charge to users who sign up to one or more digital content subscriptions.  The unnamed device, expected to hit the market in around six months time, will be positioned as a direct competitor to Amazon's Kindle ebook reader, and offer would-be users turned off by that device's high initial purchase price an alternative way of accessing regular digital content.
Full specifications of the Dell tablet – which isn't seemingly being positioned as a MID, as you might expect from Intel's involvement – aren't available, but it's presumed that it will be running an Atom processor and likely have a capacitive touchscreen.  It's possible that it could launch with Intel's Moorestown platform, the company's next-gen mobile processors and chipsets, set to reach the market in 2010.  Intel have already revealed five MID devices that it claims will launch in 2010 using Moorestown.
However it's suggested that the Dell tablet will run Windows 7, taking advantage of the upcoming OS' native multitouch support.  Meanwhile, analysts are tipping Nokia and HTC each releasing new tablets by the end of the year, while the CrunchPad seems on course for a November launch. 
[via Loren Heiny]