Dell Alienware X51 Hands-on
Dell's Alienware X51 desktop promises to be the compact desktop powerhouse to flesh out the company's mainstream range, just as much at home churning through fps in the latest FPS as it is crunching HD video as your HTPC. We caught up with Dell at the Alienware X51's London launch event, to see whether this is really the compact desktop of your gaming and multimedia dreams, or just an over-illuminated, excessively styled and expensive alternative to the Xbox 360.
The Xbox comparisons are hard to avoid. Just like Microsoft's console, the X51 delivers a combination of slick matte- and gloss-finish plastic along with a decidedly stylized aesthetic that some will find appealing and others may consider simply over the top. Alienware goes the whole hog with illumination, too, slapping LEDs behind the fascia logo and the side grilles. These can be set to custom colors, or to change according to the current Windows app or even depending on the current gameplay. If you want the lighting to glow an ominous red when you're under attack, you can have it.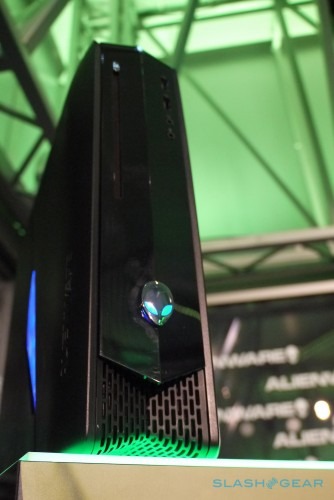 Although Alienware has played up the small footprint of the X51, it's worth remembering that these things are relative to the company's humongous regular desktops. The X51 is no nettop, in fact it's a fairly hefty unit, equal certainly to an Xbox 360. That allows it to accommodate not only an optical drive – Dell will outfit it with a DVD burner or a Blu-ray – but a discrete graphics card, your choice of NVIDIA's GeForce GT 545 1GB graphics or GeForce GTX 555 1GB.
If you're thinking of the Alienware X51 as a compact alternative to an HTPC set-top box, however, prepare to be surprised. Packing gaming-level processing power into a PC requires some space, and though Dell's minimum specification starts out with an Intel Core i3 processor, it's no surprise that the company expects the Core i5 and i7 options to be more popular.
In short, this is quite the compromise in comparison to your regular, dedicated console. The Alienware X51 is roughly akin to the 360 in size, but it kicks off at around twice the price and, arguably, is capable of twice as much functionality. That power and flexibility comes with a price tag to match, and you lose the plug-and-play ease of a dedicated console. Look out for the full Alienware X51 review very soon.