Dead Trees And PCs: HP's Innovation Challenge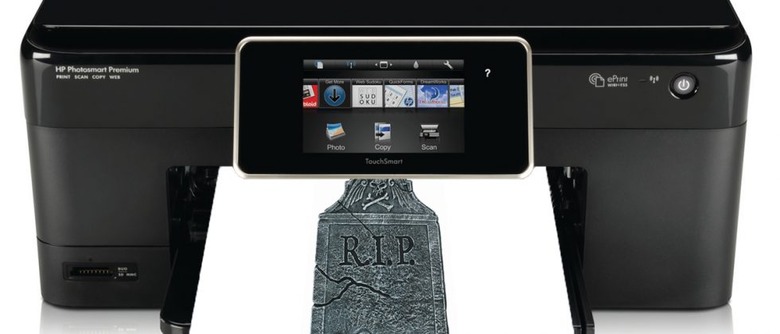 It's tough to be too enthusiastic about HP's plan to merge its printer and computing groups into a single unit. Former EVP of the PSG group Todd Bradley will lead the freshly-minted Printing and Personal Systems Group, as HP attempts to cut costs and "drive innovation" of its product range. Yet HP's track record in creating exciting, distinctive devices is hardly glowing, and there are some serious pitfalls ahead that could easily derail the new strategy.
"Combining these two entities will rationalize HP's go-to-market strategy, branding, supply chain and customer support worldwide" HP said of the change. "This will lead to a better customer experience and drive innovation across personal computing and printing. This realignment is expected to provide opportunities for cost savings and accelerate HP's ability to pursue profitable growth and reinvest in the business."
That reinvestment could well be throwing good money after bad. Printers haven't been sexy in years – if, in fact, they were ever sexy – and are generally hulking plastic giveaways intended to get consumers hooked on expensive ink. Post-PC, meanwhile, might be a Steve Jobs buzzword but it's undoubtedly a sign of the direction the consumer market is going: shifting away from traditional desktops, laptops and netbooks as tablets and oversized smartphones occupy the multimedia, browsing and messaging niches most PCs were used for.
Still, there are potential upsides to the shift. Corporate sniping and mixed management messages were among the factors blamed for the dire handling of webOS and the short-lived TouchPad, with insiders claiming control of the group became a prize to be won rather than a serious challenge to the iPad and Android. There's no denying, too, that HP's PC line-up has been underwhelming of late too; the few outliers, such as the Folio 13 ultrabook, are awash in a sea of me-too laptops and desktops.
[aquote]Bradley must look beyond what seems a good idea but, underneath, is poorly thought-through[/aquote]
What HP needs to do next is keep its newly-combined group focused, and Bradley must be ruthless in looking beyond what ostensibly seems like a good idea but, underneath, is poorly thought-through and ill-advised. A good example of that is HP ePrint, the company's attempt to make inkjet printers relevant to smartphones and tablets like the iPad. Forwarding an emailed document to the printer would produce a hard copy, but HP neglected to add support for even the most basic tweaks, like selective page printing. 300 page PDF? ePrint was all-or-nothing.
We asked HP about the ability to choose an individual page or range of pages back at ePrint's launch in mid-2010. The company's reps nodded and said it was a good idea, something they'd definitely look into; then they pretty much left ePrint alone and moved onto The Next Big Thing instead.
Ditching webOS and the TouchPad was similarly short-sighted, with the tablet axed and the platform put out to open-source pasture in the space of a few cash-hemorrhaging months. The lingering impression was that HP had no long-term strategy beyond its "make 'em cheap and get 'em out the warehouse" model, that it didn't have anything in the way of longer-term perspective. If something isn't immediately successful, bin it and try something completely different: in short, pivot so fast that centrifugal force throws away anything good you've developed along with anything bad, and hope that it slips everyone's attention.
People will inevitably always need printers, at least for the foreseeable future, and businesses – and some subset of regular consumers – will need traditional PCs too. Those mundane markets, though, don't appear to be what HP is hoping to chase. If the new Printing and Personal Systems Group is to do better than its disparate forebears, HP will need to remember and learn from its mistakes, rather than do as much as possible to forget about them.