D-Link Omna 180 Cam HD Review: HomeKit's first camera is raw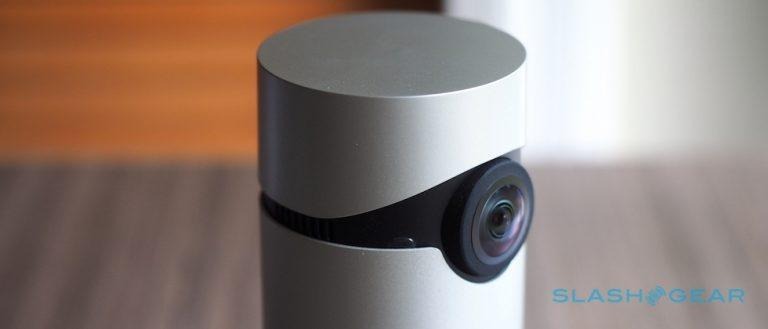 Apple's HomeKit makes a simple promise: take the disparate parts of the connected home, and bring them together under one straightforward umbrella. Still, the stringent requirements around things like security and ease of setup has meant partner devices have been slower to trickle down to the market than for rival platforms: this D-Link Omna 180 Cam HD has the title of first HomeKit-compatible security camera available. $200 gets you a very wide angle lens and freedom from subscription fees, but there are still signs that neither HomeKit nor D-Link's camera are quite where the competition has reached.
There's no denying D-Link has got the Apple design language down to a fault. The Omna's aesthetic is old iSight meets MacBook Pro meets Mac Pro, a narrow cylinder of brushed aluminum punctuated with matte black plastic. It's definitely handsome, though it does sacrifice flexibility for style. Unlike a Nest camera there's no way to angle it, and nor is there any provision for wall-mounting.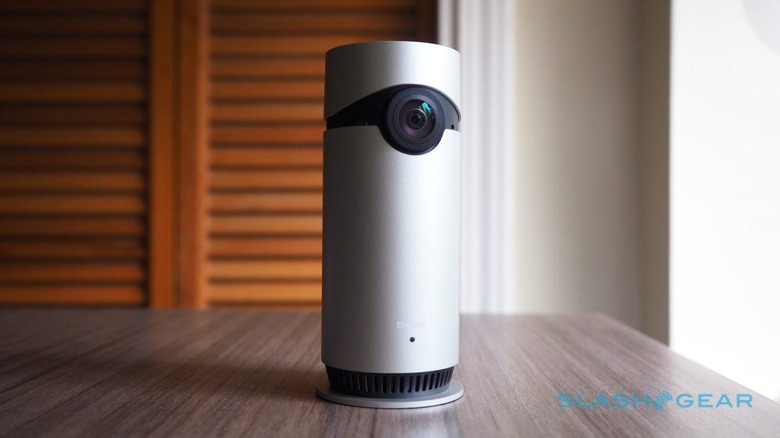 Setup, at least, is simple – assuming you're an iOS user. Unlike previous D-Link cameras, Omna gets an app of its own, but right now it's only available for iPhone; Android users are out of luck. Assuming you've an iPhone to hand, installation is a matter of plugging the camera in with the supplied microUSB adapter, waiting for it to show up in the discovered-devices list in the app, and then "scanning" the HomeKit code (helpfully printed both on the back of the Omna and on the Getting Started leaflet).
D-Link and HomeKit assume you'll want to link the camera to the same WiFi network your iPhone is currently connected to, and there's no obvious way to change that beyond heading to the iOS settings and switching to the preferred network. Once online, you can add the Omna to your HomeKit devices as, optionally, favorites. There it can show up twice, both as a camera and as a motion detector.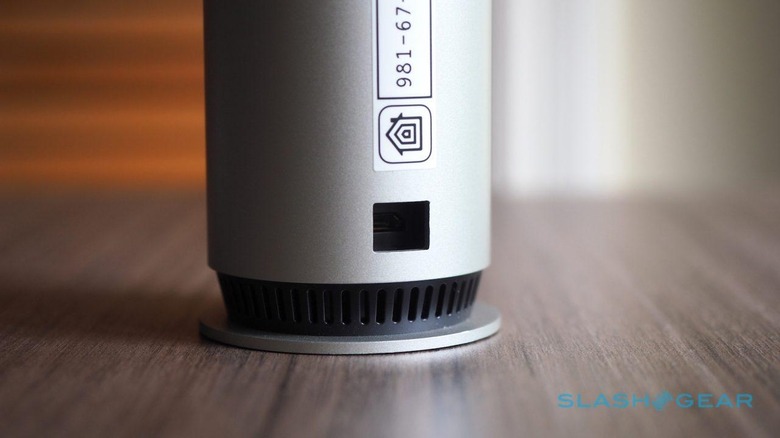 There are some positioning considerations to be made. For a start, the extreme wideness of the Omna's lens means that if you push the camera back into a bookcase you'll likely end up sacrificing visible area. Obviously, you also need to be within reach of a power socket; I'd have liked to have seen a battery onboard for at least temporary backup purposes during a power outage. The aluminum casing gets fairly hot, too, during normal use, so best not to cover it up or enclose it too fully.
Like earlier D-Link security cameras, the Omna is subscription-free. It does that by relying on local storage, with a microSD slot on the bottom. You're expected to supply your own memory card. Sadly there's no ability to back videos up to iCloud or, indeed, any other cloud service – if someone steals your camera, or just removes the microSD, you're out of luck – and where the regular D-Link app allows you to set up an FTP server to save clips to, the Omna app does not. Instead, you can save clips from the camera to your iPhone, though only through D-Link's app, not the HomeKit interface.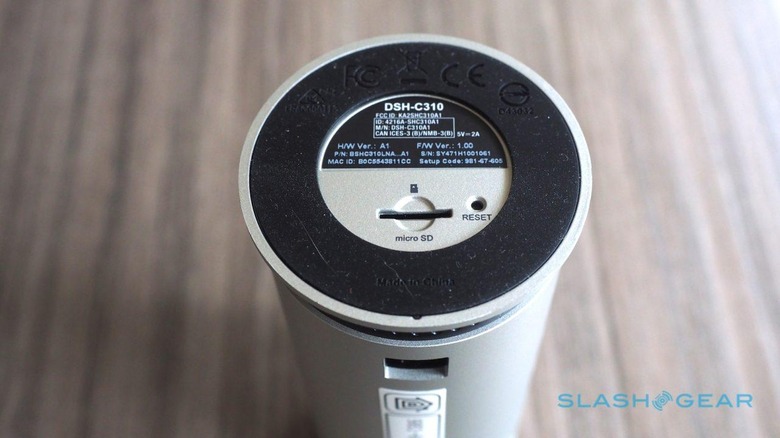 That becomes a familiar refrain. The Omna app is where you'll do whatever heavy-lifting the camera currently supports, like setting up motion zones – movement outside of which is ignored – that are then carried over to how HomeKit handles triggers. More frustrating, some of the obvious settings just aren't there at all: you can't turn the green status LED on the front of the camera off, for instance. There's no easy way to switch between "home" and "away" either, toggling the Omna off to avoid an avalanche of motion alerts.
D-Link's boast with the Omna is that its 180-degree lens fits more of your room into the frame. That's certainly true, though it's not quite as fisheye-free as the company suggests, and you definitely get some curve toward the corners. 1080p picture quality is decent, though there's no way to zoom in either the Omna or HomeKit live-views, which leads to a lot of squinting at your iPhone screen. D-Link tells me an update this spring should add pinch-zoom support. Clips themselves are 20 seconds long, including footage both just before and after a motion-trigger. There's noticeable lag when you're away from home and trying to access either clips or live video, since unlike other cameras neither are being buffered in the cloud.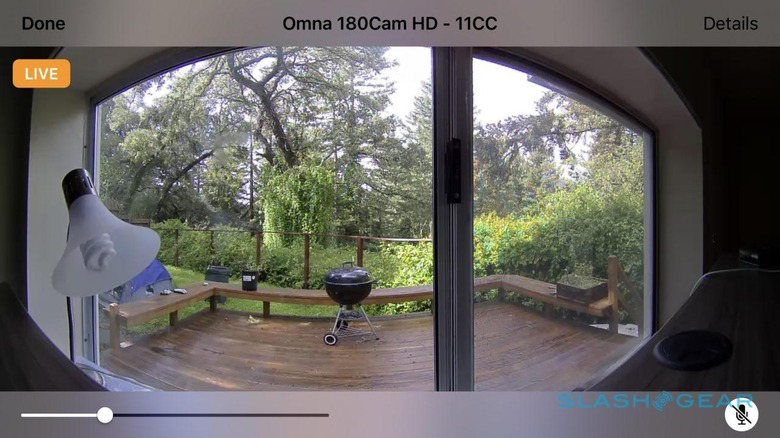 HomeKit still feels fairly rudimentary in comparison to other smart home systems. While you can use the Omna's motion triggers to activate other connected devices you might have, like turning on your Hue lights, it's a fairly basic automation. You can tell HomeKit only to switch on lights after sunset, but not set up specific time windows. You can see a live view through the camera via the Home app – including just asking Siri to show it – but not access old recordings. Unlike some cloud-based camera services, which can differentiate between just motion and a person, HomeKit sees all movement the same.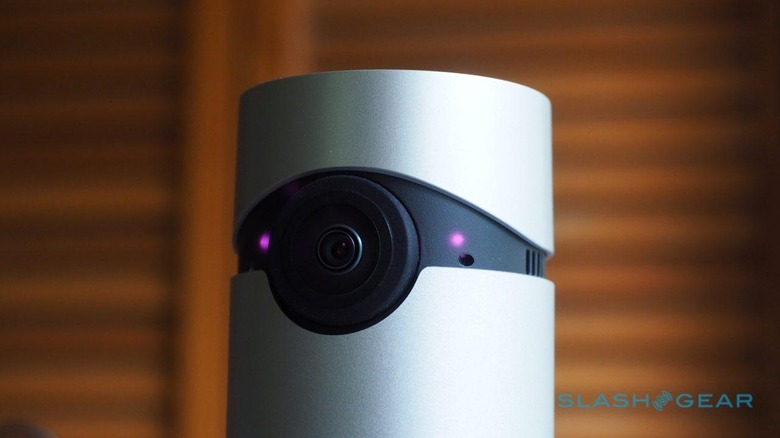 NOW READ: Nest Cam Outdoor Review
Luckily there are other HomeKit-compatible apps which have broader scene support, like Elgato's free Eve app. That does undermine some of the promised simplicity that both D-Link and Apple pitch so strongly with HomeKit, however. I've no doubt more features will be added in time, from one company or both, but for now the tribulations of the early-adopter are in full force.
At $199.95, the D-Link Omna 180 Cam HD is competitive with rivals from Nest and others. Factor in the absence of ongoing subscription fees and the Omna starts to look like something of a bargain. All the same, its video handling abilities, limit to iOS support, and the relative naivety of HomeKit all take their toll. Right now, the first security camera with Apple HomeKit support is great if you want an easy way to see what's going on live back home, but it hasn't usurped Nest Cam's ability to package complex features in an easy-to-use way.