D-Link 180-degree WiFi Camera Review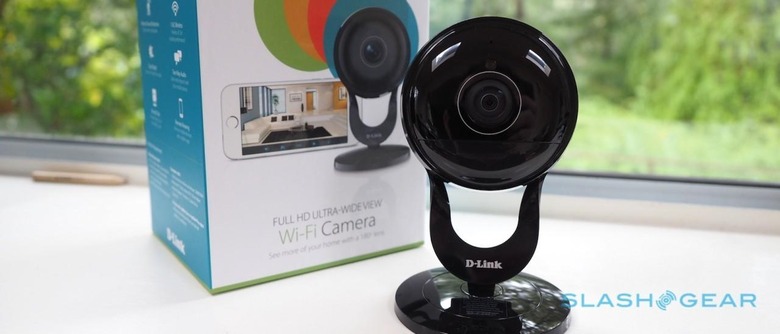 WiFi security cameras like Nest Cam have brought home monitoring within the reach of the mainstream, but all too often come with a subscription sting. Not so for the D-Link Full HD Ultra-Wide View WiFi Camera (DCS-2630L), which eschews the cloud in favor of a one-off price of $199.99 and the convenience of a microSD card. It also promises to fill that storage with a lot more of your home or office, courtesy of a full 180-degree lens.
It's not a small camera, considerably larger than a Nest Cam for instance, not to mention thicker and heavier. I do prefer D-Link's mounting system, mind: the metal base is well-weighted, so the camera didn't move on a shelf even as I pulled the USB cable around, and it has screw holes for wall mounting if you prefer.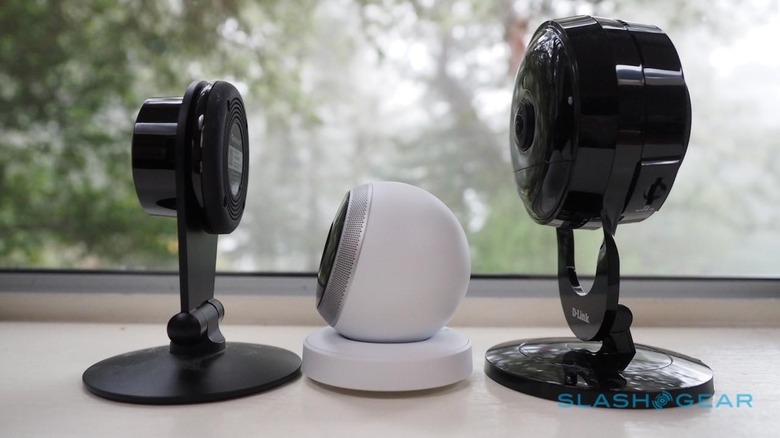 On the side there's a microSD slot – good with up to 128GB cards, though D-Link doesn't include one in the box – and a microUSB port for power. The cable is long enough that you could mount the camera up near the ceiling and still plug it into an outlet down by the floor; alternatively, you could use any microUSB power supply you might have.
Two-way audio is supported, with a microphone and speaker built-in, and there's a status LED on the back along with a WPS button.
Setup proved trickier than I expected it to be, at least to get all the features up and running. D-Link's quick-start card points you in the direction of the iOS or Android app: there you can create an account, find your camera by scanning the QR code on the card, and teach it your WiFi network either by hitting your router's WPS button or temporarily connecting your phone to a network hosted by the camera.
From that point I could see video streaming live in the app, and using a simple row of buttons control resolution, whether the IR illumination for low-light came on automatically or manually, and turn my microphone on to speak through the camera's speakers. What I couldn't do was to record to the microSD card I'd inserted.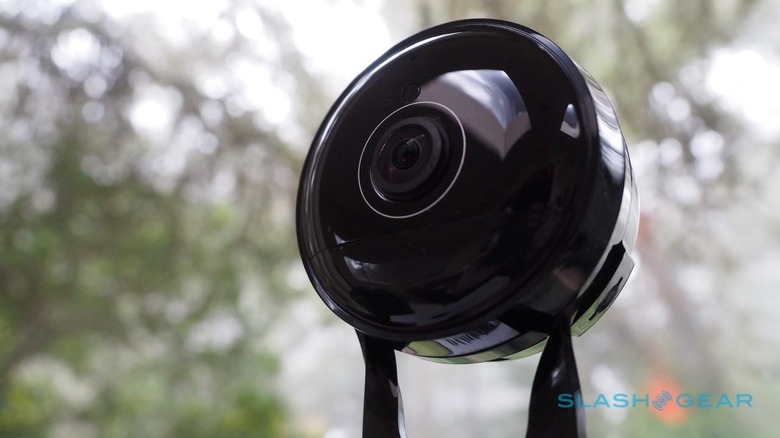 In fact, to use the recording feature – or access the majority of the camera's surprisingly advanced functionality – you need to log into D-Link's browser-based control panel, which means knowing the IP address your router has assigned it. Unfortunately there doesn't appear to be anywhere in the mobile app which tells you what that is.
Once logged in, you can turn on video recording, choose the default maximum length of clips, quality, and what buffering either side of a trigger-event you prefer, whether sound or motion or both can act as triggers, define specific zones in the frame where motion is watched for or ignored, and set whether a trigger also fires out a still image as an alert.
It's both hugely flexible, allowing for different video settings, picture adjustments, and more, but also very complex in the process. If you want an email notification, for instance, you also have to plug in SMTP email server settings. D-Link's argument is that local recording means no ongoing subscription fees, but it also means that if you want the reassurance of a cloud backup – handy if the camera itself gets stolen – then you have to manually set up an FTP server.
I can't help but feel like it could've been made easier for more plug-and-play installations without doing away with the more complex controls advanced users might appreciate. The fact I needed to install a video plugin just to see a feed from the camera in my browser – and even then Chrome still won't play it – rather than D-Link just using HTML5, and that I can't log in with my Dropbox or OneDrive credentials to streamline cloud storage make Nest Cam's streamlined installation process all the more appealing.
Meanwhile, I also had issues watching recorded videos through the app. While I could see recordings in the list, and indeed download them for local playback through D-Link's browser interface, they refused to stream.
It's a shame, as 1080p video quality is solid, both in regular lighting and low-light conditions. In the latter, six strong IR LEDs switch on, and had no issues illuminating me across the basement. Still images can be captured in the mobile app, saved straight to the camera roll in 1920 x 1080 resolution. They automatically have a timestamp and the name of the camera in the upper left corner.

Compared to the Dropcam Pro – which has the same 130-degree field of view as the Nest Cam – I could see significantly more with the D-Link's wide-angle lens. Attempting to sidle past, pressing against the wall that the two cameras were against, I was easily outside of the Dropcam's vision, but triggered motion recording on the D-Link.

There's a little fisheye-correction aberration still at the corners, as D-Link tries to smooth out the visuals, but it was still clear enough to make my face recognizable.
NOW READ: Logi Circle Review
My reservations with the D-Link DCS-2630L are all around user-friendliness. It's undoubtedly a hugely capable camera, with more granular control than most WiFi security cameras offer, but actually getting it up and running properly is significantly trickier than with Nest, Logi, or others.
If you have the time and inclination to dig through settings pages, tweak FTP and email servers, and play with camera quality options, I've no doubt you'll get more from D-Link's camera than, say, a Nest Cam. On the flip side, if you want to plug a camera in, register, and then get on with the rest of your life, there are much easier options out there. Just bear in mind that you'll more than likely be paying a regular subscription fee in return for that simplicity.