Crytek intends to take Darksiders off THQ's hands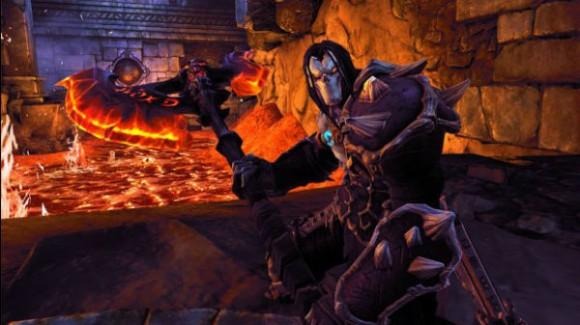 Crytek is looking to reunite Darksiders with its original creators, Vigil. The company hired 35 of Vigil's employees after the company failed to receive any bids back in THQ's original auctions. Crytek launched a new studio in Austin, Texas called Crytek USA and housed all of the Vigil employees there. Crytek USA is currently headed by Vigil's old co-founder, David Adams.
The bidding for Darksiders, as well as the other IPs in THQ's back catalog auction, will begin on April 1st and will continue on through April 15th. THQ will then have to discuss the bids with the entities that it owes money to, and then it will decide on a primary bidder and back-up bidder for each of its IPs. THQ will then have to present the sales to the court, who will have to approve each sale. Everything is expected to finalize sometime in May.
David Adams tweeted, "Looking to buy @Darksiders IP back from #THQ. The IP belongs in the hands of its creators." Ryan Stefanelli, the Principal Designer at Crytek USA, further confirmed that Crytek will be bidding for Darksiders's IP, and that everyone is "excited at the prospect". It's still up in the air what Crytek plans on doing with the IP. It had already stated that it doesn't plan on working on Darksiders 3, because it "doesn't fit with our strategy".
Nonetheless, fans, as well as the ex-Vigil staff, will be relieved that Darksiders will return home to its rightful owners. For those of you that are interested in playing Darksiders or Darksiders 2 for the PC, you can purchase the games for extremely cheap through this week's Humble Bundle. You can pay $1 to get Darksiders, or a little over the average payment to get both games. You will also get Red Faction: Armageddon and Red Faction: Guerrilla.
[via Joystiq]