Humble Mobile Bundle and second Humble Weekly Sale now live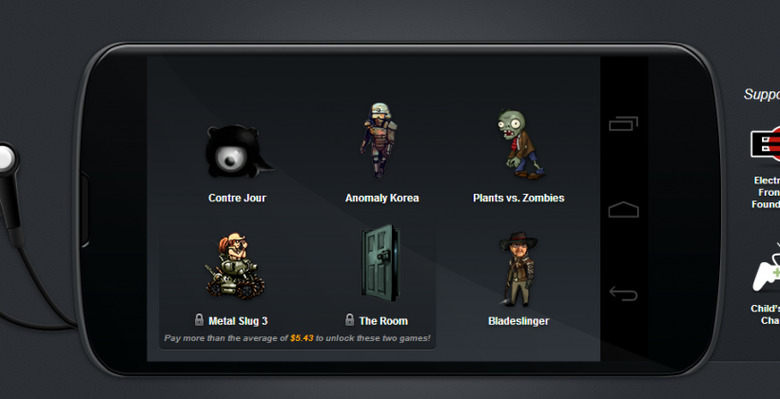 Humble Bundle has announced two new sales for its collection this week. For the first time ever, the Humble Mobile Bundle will be released, showing off 6 great games that you can play on your Android device. Alongside the Humble Mobile Bundle comes the second Humble Weekly Sale. The new sale features 4 great games from game developer THQ that players can access through Steam.
For the Humble Mobile Bundle, you can pay any price you want to get access to the tower defense game, Plants vs. Zombies, the physics-based puzzler, Contre Jour, the reverse tower defense game, Anomaly Korea, and the third-person action brawler, Bladeslinger. However, if you pay more than the average price, you will also be able to download the 3D puzzle game, The Room, as well as the classic side-scrolling shooter, Metal Slug 3.
For the Humble Weekly Sale, you can pay any price you want (with a minimum payment of $1) to get access to two popular THQ titles. You will be given Steam keys for each game to be redeemed on any gaming-capable Windows PC. The first game you'll get is Red Faction: Armageddon, where you will be fighting an evil alien species looking to spread Armageddon upon mankind. The second game is Darksiders, where you get to play as one of the Four Horsemen of the Apocalypse. If you pay more than the average price, you will also given access to Red Faction: Guerrilla, as well as Darksiders sequel, Darksiders II.
The Humble Mobile Bundle will last two weeks long, while the Humble Weekly Sale will, of course, only be available this week. Humble Bundles are a great way for players to directly support game developers. Donations will also be split up and given towards several, select charities, including Child's Play Charity, Electronic Frontier Foundation, and the American Red Cross.
[via Humble Bundle]