Creative Vado HD camcorder boosts low-light performance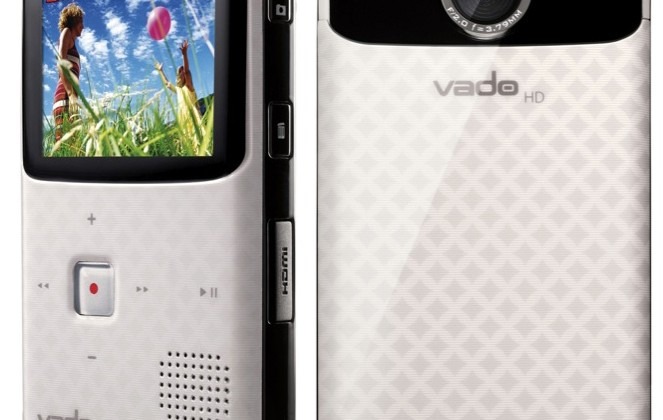 Creative's latest point-and-shoot camcorder has emerged, and though the feature list isn't exactly overwhelming it's a decent update over the second-gen version.  The new Creative Vado HD still grabs 720p high-definition footage but now the company are claiming improved low-light and bright-light performance together with out-of-the-box compatibility with both PCs and Macs.
There's also more choice in terms of connectivity, with a freshly added stereo microphone port and headphones connector.  The Vado HD will also now take still photos, and can be used in a motion-activated mode.  HDMI connectivity, a pull-out USB cord and a wide-angle lens are still present, though the 8GB model appears to have been canned in favor of the 4GB version, which can store up to 120 minutes of HD footage or 7,000 still photos.
Most obviously, the somewhat bland casing of the previous versions has been replaced with a choice of glossy black or white, with red, blue and purple to follow.  It'll be available to preorder imminently, priced at $179.99.
Press Release:
CREATIVE UNVEILS ELEGANT NEW DESIGN WITH THIRD GENERATION VADO HD

Creative, a worldwide leader in digital entertainment products, today announced the chic third generation Vado HD Pocket Video Cam, combining a sleek design with stunning HD video quality.

"We've won prestigious awards and accolades for the great performance, ease of use and compact form of our Vado HD cameras. The third generation Vado HD brings a cool new design and adds additional features to the already award-winning feature set. The design looks so cool people will stop you on the street and ask you where you got it," said Steve Erickson, VP and GM for audio and video at Creative.

Building on the great features the Vado HD line is already known for, such as HDMI out and a wide-angle lens, the third generation Vado HD adds important additional features:

Improved quality of video in low light or brightly lit conditions with manual exposure adjustments

External stereo microphone support for better audio recording

Headphone output for private listening

Motion Detection Mode enables users to program the camera to begin recording as soon as motion is detected

Out-of-the box Mac and PC compatibility

The third generation Vado HD also features new Vado Central 3.0 software with more instant web uploading capabilities and integrated editing options. Users can simply select one-click uploading to a number of popular social media sites, including Facebook and YouTube, and their videos will be ready to view or share in a matter of minutes. For users who don't want their videos to be shared publicly, videos can be uploaded to KinKast via one-click uploading and then those services offer a variety of other features, including an email invite option for a more private viewing experience. Simple video editing capabilities enable users to edit videos directly in Vado Central 3.0. For more advanced editing options, users can edit videos in other editing programs, including iMovie and Movie Maker.

The third generation Vado HD with better compression can still hold up to 120 minutes of HD quality video or up to 7,000 still photos in 4GB of onboard storage. The removable rechargeable battery provides more than two hours of recording or viewing. Users can easily recharge the battery via the flexible, pull-out USB cable, with no additional cables required. Extra batteries and a wall plug-in battery charger are also available.

Pricing and Availability

The 4GB third generation Vado HD is available in black or white and is available for pre-order from www.amazon.com and www.us.creative.com for US$179.99. For more information about the complete line of Creative Vado Pocket Video Cams and Vado Pocket Video Cam accessories visit www.us.creative.com.