Creative demo Zii EGG gaming, ZMD 05 Plaszma module [Video]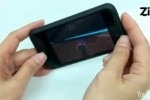 Creative have been showing off some of their new Zii EGG developer device's 3D gaming skills, with a video of the iPod touch-like handheld running a 3D OpenGL ES enhanced racing game complete with accelerometer control.  The company has also released a more technical video about their StemCell Computing platform, demonstrating some of the abilities of the ZMS 05 System Module at the Zii EGG's core.
Video demo after the cut
The ZMS 05 bundles all of Creative's StemCell Computing hardware, and uses a standard SODIMM connector to hook up to third-party I/O board.  The company envisage it slotting into future nettops, IPTV systems and internet-connected digital picture frames.  The ZMS 05 processor has a USB 2.0 controller, three bidirectional video controllers, analog HDTV encoder, and various other connectors, while the board also has a power management unit, ethernet controller and an audio DAC.
With all that, the ZMS 05 can handle 720p video playback, OpenGL ES 3D graphics such as for GPS navigation, real-time encode/decode of H.264 video and more.  Full details in the video below.
Creative Zii EGG gaming demo:
Creative ZMS 05 Zii Plaszma system module:
[gaming video via epiZENter]