CES 2009: Creative Zii 'Stemcell Computing'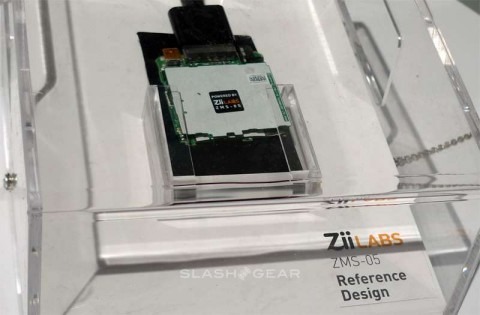 Creative have been demonstrating their new Zii platform this week at CES, catchily titled "Stemcell Computing", which is promising a huge shift in how multimedia is handled by mobile devices.  Zii comprises a number of scalable Processing Elements, or PEs, each of which can be individually re-tasked to different tasks.  In that way, rather than a device having a set amount of video decoding, encoding or high-definition processing capability, it can selectively assign generic PEs to whatever the task at hand.
It's these PEs that make up the Zii ZMS chips, twenty-four in total, and capable of 10 gigaflops – that is, concurrent calculations – per second.  A blade server can take 256 ZMS chips – 6,144 PEs in all – and is capable of a staggering two teraflops per second.  In contrast, to make a comparable blade server from standard chips, you'd require 1,000 blades. 
Of course, Zii's strength for consumers is not in supercomputing but in packing high-definition multimedia capability into a compact package.  PMPs, MIDs, UMPCs and netbooks would all be ideal candidates, with the Zii chip acting as a co-processor for multimedia alongside a traditional CPU for everyday computing.  Plus, since a ZMS chip can selectively shut off power to unused PEs, overall energy demands are lower than a traditional chip; that means battery life can be longer despite the greater capabilities.
Creative are pushing not only their first ZMS-05 chip, which includes a media processing array, dual ARM cores and integrated peripheral controllers, but the full Zii platform of specially compatible OS, SDKs, hardware reference designs and middleware.  While the company wouldn't commit to release dates and availability of products using the Zii platform, they did demonstrate working in-house prototypes.  These included a CCTV security camera capable of processing 30fps high-definition video and a early-stage prototype set-top box for HD encoding and decoding.