Cowon S9 Curve PMP confirmed for US December 19th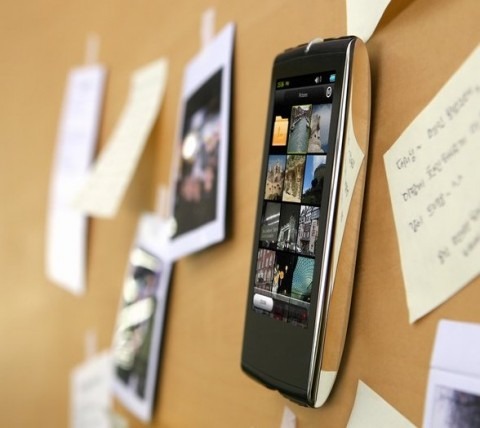 After Friday's confirmation of the Cowon S9 Curve's UK release, now it's the turn of the US to get the touchscreen AMOLED PMP.  Both the 8GB and 16GB versions of the S9 will be available from December 19th, priced at $199.99 and $239.99 respectively.  That gets you a 3.3-inch, 16m color 480 x 272 touchscreen, Bluetooth 2.0 with stereo A2DP support and a bevy of supported audio and video formats.
In fact Cowon are claiming the S9 Curve can handle DVD-quality MPEG-4 videos, either on its own display or via the TV output.  There's also an accelerometer for automatic screen rotation, integrated microphone and a line-in socket.
Battery life is rated at up to 11 hours for video and 55 hours for audio, and Cowon have loaded their latest sound enhancements, BBE+, for those taken with that sort of thing.  Find it, this Friday, at Amazon.com, Newegg.com, B&H Photo-Video, ZipZoomFly.com and eBay.com.
Press Release:
COWON Ships the Ultra-Stylish COWON S9 PMP

COWON's Most Stylish PMP Shows Off Its Sophisticated Design, AMOLED Touch Screen, Exclusive GUI System, Advanced Video Functionality, Bluetooth® 2.0 and Long Battery Life

COWON S9 is First to Feature "BBE+" Sound Enhancement Technology

IRVINE, Calif. – December 15, 2008 – Delivering on its promise to satisfy both the design-conscious gadget seeker and digital media enthusiasts, COWON America, Inc., today announced the shipment of the new COWON S9 portable media player (PMP). The COWON S9's innovative design features a titanium/black face and a curved-back casing surrounding a 3.3-inch Active-Matrix Organic Light Emitting Diode (AMOLED) touch screen display. To complement its sleek form design, the S9 features an exclusive GUI system boasting capacitive touch screen operation, advanced video functionality supporting transcoding-free playback of most DVD-quality MPEG-4 videos and TV output, Bluetooth® 2.0 support for stereo headphones, G-sensor accelerometer for auto-pivot display, and extended battery life of 11 hours for video and 55 hours for audio. The S9 is also the first COWON player to offer next-generation JetEffect 2.0 audio technology with improved EQ filter, stereo enhancement and BBE+, which includes upgraded BBE, Mach3Bass, 3D Surround and MP Enhance audio processing.

Developed for the U.S. market by COWON Systems, a global leader in digital multimedia solutions, the COWON S9 is available with 8GB or 16GB internal flash memory and priced at $199.99 and $239.99, respectively. Customers can order the product starting December 19, 2008, through JetMall (www.jetmall.net) and at select authorized U.S. retailers Amazon.com, Newegg.com, B&H Photo-Video, ZipZoomFly.com and eBay.com.

"The COWON S9 is by far the most attention-grabbing media player we have introduced to the U.S. market. Users looking for the next 'must-have' fashion gadget will be impressed by the S9's streamlined design, while digital media aficionados will appreciate the S9's amazing video and sound quality," said Francis Choi, senior marketing manager, COWON America. "Thanks to its dual next-generation portable media technologies, AMOLED display and BBE+ audio, advanced GUI system and extended battery life, the S9 ushers in a new standard of portable digital media excellence that most other PMPs simply can't meet."

COWON S9: Sleek and Fully-loaded PMP

The COWON S9 is loaded with exclusive features including a 500MHz dual-core processor, widescreen AMOLED display capable of 16 million colors with 480x272 resolution, and capacitive touch-screen operation of COWON's new advanced GUI system with Zoom UI, video clip preview, auto pivot, and Quick List functions. The PMP also supports "user created interface" to allow users to develop and share the S9's unique interface. The S9 also supports a wide array of video/audio formats and codecs, including:

Video file formats:

AVI, WMV

Video codecs:

Xvid, SP/ASP, WMV9 SP/MP

Audio file formats:

MP3, WMA, FLAC, OGG, WAV, APE

Audio codecs:

MPEG1 Layer 1/2/3, WMA, FLAC, OGG Vorbis, OGG FLAC

In addition to the next-generation JetEffect 2.0, the S9 offers audiophiles a five-band custom equalizer with 30 presets (four user presets), built-in microphone and line-in recording functions, and an FM radio. Completing the S9 is a JPG photo viewer, text viewer, Flash player and calculator. The COWON S9 measures 2.2 x 4.17 x 0.5 inches and weighs 2.7 ounces.