Not too long ago a massive sinkhole opened up underneath the National Corvette Museum in Bowling Green, Kentucky. The massive sinkhole swallowed multiple limited edition collector Corvette models that were on display. As large as the sinkhole is, it was surprising that only eight of the many cars on display were affected by the sinkhole.
When I say effected, what we mean is that the cars tumbled into a 40-foot diameter hole that opened under the museum. GM has already stated that it will restore all of the cars that fell into the hole so they can go back on display.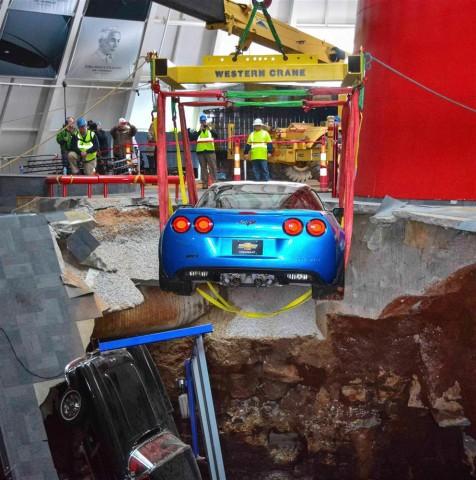 The thing that many people have been wondering is exactly how the cars will be removed from the massive hole. The extraction of those cars has begun at the museum using a giant crane to lift the cars out of the hole.
The first car recovered by the crane was a 2009 Corvette ZR1 dubbed "Blue Devil." Another of the rare Vettes was removed from the hole by Monday evening. That car was a 1993 Ruby Red 40th anniversary edition. While the blue car was not damaged that badly, the red car was missing windows and had a cracked windshield, along with multiple dents and scratches. A third car is expected to be removed from the hole today. The most difficult car to salvage is likely to be a black 1962 coupe that has a 5-ton concrete slab resting on the front of the vehicle.
SOURCE: NBC News