GM promises to oversee restoration on eight Corvettes that fell into a sinkhole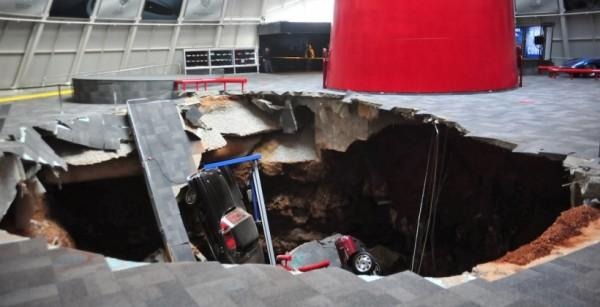 One of the strangest things to happen in the automotive world in a long time is the massive sinkhole that opened under the National Corvette Museum. That sinkhole created a massive crater that is 40-feet across and gobbled up eight rare Corvettes in the process. Whether you are a Chevy fan or not losing eight rare cars is something that no car person wants to happen.
GM has stepped up and promised to oversee the restoration of all eight of the cars that fell into the sinkhole. The Corvette carnage could have been much worse, the Sky Dome where the eight affected cars were on display held 25 cars.
Another question on the minds of many is exactly what will happen to the building since the giant sinkhole consumed a massive swath of floor along with the cars. Engineers retained by the museum say that the building did not sustain any structural damage.
The floor and massive 40-foot wide sinkhole will be repaired. Once the cars are removed from the hole, where they still sit, they will be sent to the GM Mechanical Assembly facility where the restoration will be completed. The Mechanical Assembly facility is where GM restores historical concept cars.
SOURCE: USA Today