Corsair Force Series F200 & F100 SSDs outed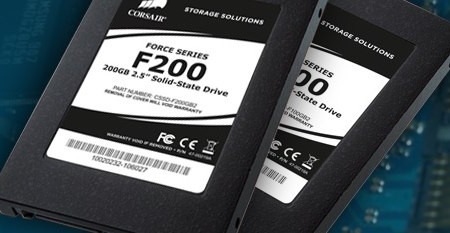 Corsair have unveiled their latest solid-state drives, the Corsair Force Series SSDs, each using the SandForce SF-1200 SSD Processor for up to 285 MB/sec read speeds and up to 275MB/sec write speeds.  Available as the 100GB F100GB2 and the 200GB F200GB2, each is a 2.5-inch SATA-II drive.
Each supports the Windows 7 TRIM command, for improved longevity, and Corsair reckon you'll see over 1m hours use between failures.  Maximum power draw while active is 2W, and the SSDs suck just 0.5W while idle.
Both drives will go on sale in two weeks time, though Corsair are keeping quiet on pricing.  We'd expect them to both be more expensive than the company's recently announced Reactor and Nova SSDs.
Press Release:
Corsair® Launches Force Series Solid-State Drives

- Using SandForce™ SF-1200 SSD Processor, Force Series SSDs offer class-leading performance of up to 280MB/sec read and 260MB/sec write –

Hannover, Germany, March 4, 2010 — Corsair, a worldwide leader in high-performance computer and flash memory products, today announced the Force Series of SSDs, providing outstanding SATA II performance based on innovative SSD Processor technology from SandForce Inc.

By utilizing the state-of-the-art SandForce SF-1200 SSD processor combined with MLC flash memory, the Corsair Force Series of solid-state drives deliver outstanding performance figures of up to 280MB/sec read and 260MB/sec write. In addition, these drives feature class-leading random read/write performance. The highly innovative SandForce DuraClass™ Technology also delivers unparalleled write endurance and error correction features.

"The Force Series are the fastest SSDs that Corsair has launched to date," stated Kevin Conley, Vice President of Engineering at Corsair. "We have been very impressed with the SandForce SSD Processor innovations in the months that we have been working with them, and we can't wait to get these extraordinarily fast SSDs into the hands of our most demanding customers."

The Force Series of SSDs are available in capacities of 100GB and 200GB and support the TRIM command in Windows® 7, which helps to maintain optimal performance over the drive's lifetime.

"The SandForce SF-1200 SSD Processor employs revolutionary flash management technology to create a new class of SSD with unparalleled performance and reliability," stated Thad Omura, Vice President of Marketing at SandForce. "We have enjoyed working closely with Corsair to bring this exciting technology to market for Corsair's large worldwide network of system builders, retailers, and computing enthusiasts."

The Force Series of SSDs will be available within two weeks from Corsair's worldwide network of authorized distributors and resellers. For more information on Corsair Force Series SSDs, please visit http://www.corsair.com/products/ssd_force/.