Corsair Reactor and Nova SSDs outed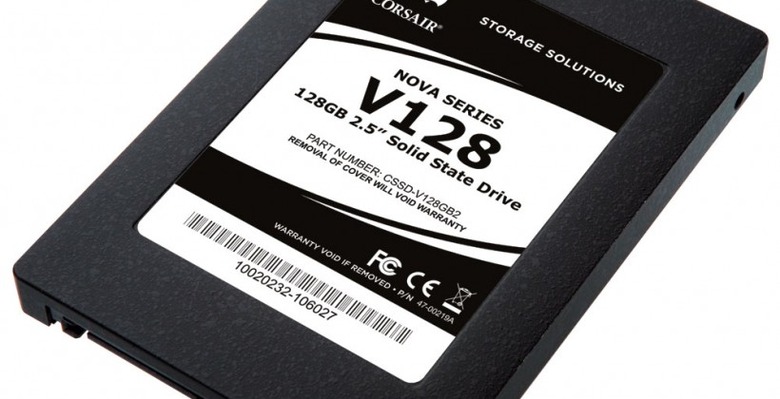 The Reactor drives are based on a JMicron JMF612 controller with 128MB of DDR2 cache, while the Nova SSDs get an Indilinx Barefoot controller with 64MB of cache.  Each drive supports Windows 7's TRIM command for improved performance over its lifespan.
As for pricing, the Corsair Reactor SSDs are priced at around $185 and $349 for the 60GB and 120GB drives respectively, while the Corsair Nova SSDs come in at around $199 and $375 for the 64GB and 128GB drives respectively.  All four are shipping now.
Press Release:
Corsair Launches Reactor and Nova Series Solid-State Drives

New SSDs utilize JMicron JMF612 and Indilinx Barefoot™ controller technologies to deliver exceptional price/performance and Windows® 7 TRIM support

FREMONT, California, February 26, 2009 — Corsair, a worldwide leader in high-performance computer and flash memory products, today announced the addition of the Reactor Series and Nova Series to its family of solid-state drives (SSDs). Both the Nova Series and Reactor Series provide the performance benefits of solid-state technology at an attractive cost per gigabyte.

The Reactor Series, including 60GB and 120GB drive capacities, is built using the new JMicron JMF612 controller. This second-generation controller from JMicron incorporates 128MB of DDR2 cache memory for stutter-free performance. The 120GB Reactor Series SSD delivers speeds of up to 250MB/s read and 170MB/s write, while the 60GB Reactor Series SSD features speeds up to 250MB/s read and 110 MB/s write.

The Nova Series is built using the popular Indilinx Barefoot controller with 64MB of cache memory, and is offered in drive sizes of 64GB and 128GB. The 128GB Nova Series SSD is able to achieve speeds of up to 270MB/second read and 190MB/second write, while the 64GB Nova Series SSD delivers speeds up to 270MB/s read and 130MB/s write.

Both Reactor Series and Nova Series SSDs fully support the TRIM command in Microsoft Windows 7 operating systems, which automatically maintains optimal performance over the lifetime of the drives.

The Reactor Series and Nova Series are available immediately from Corsair's authorized distributors and resellers worldwide and are backed by a Two-Year Limited Warranty. Complete customer support via telephone, email, forum and Tech Support Express is also available.