Corsair Extreme SSD X256 offers 256GB of crazy-fast storage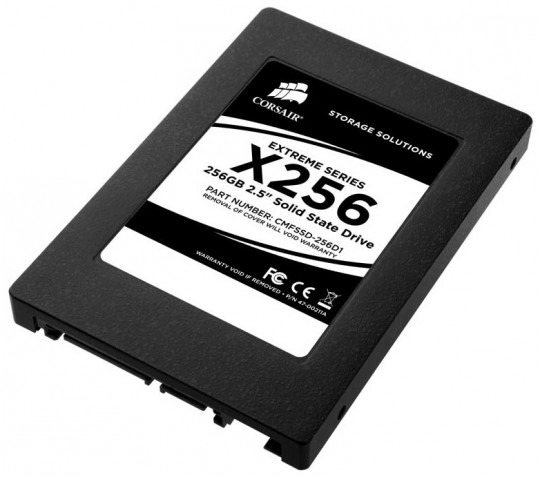 Corsair have announced their flagship Extreme Series SSD, a 256GB model that promises read speeds of up to 240MB/s and write speeds of up to 170MB/s.  The X256 joins the existing 32 to 128GB SSDs in the Extreme Series, with 64MB of cache and the Indilinx Barefoot controller.
There's also end-user upgradable firmware which means Corsair will be able to update the SSD with new functionality.  One of the first such updates will be TRIM support for Windows 7, which will apparently reduce unnecessary delete cycles and prolong the SSD's lifespan.
Of course, 256GB of high-performance SSD doesn't come cheap, so while the Corsair Extreme Series X256 may be already on sale you may find it beyond your current means.  We're seeing it retail online from around $695 upward.
Press Release:
Corsair® Launches 256GB Extreme Series SSD

- Top-of-the-line Extreme Series SSD offers maximum performance and capacity -

FREMONT, Calif., Aug. 24, 2009 — Corsair®, a worldwide leader in high-performance computer memory, power supplies and flash memory products, including solid-state drives, today announced a new, high-capacity 256GB addition to its high-performance Extreme Series SSD family.

Built using the renowned Indilinx Barefoot controller and Samsung MLC NAND flash memory, the new Corsair Extreme Series X256 SSD combines high-performance with a massive 256GB of storage space, for enthusiasts who don't want to compromise on speed or capacity. The new Corsair Extreme Series X256 joins the existing models, the X32, X64 and X128, and offers read speeds of up to 240MB/s and write speeds of up to 170MB/s. It also features 64MB of cache memory, ensuring stutter-free performance.

"Since the launch of the Corsair Extreme Series SSDs in June we've had a fantastic response from customers who love the high-performance and reliability, and we've regularly been asked for even higher capacity models." said Jim Carlton, VP of Marketing at Corsair. "The new 256GB Extreme Series X256 is a response to the growing popularity of high-capacity SSDs, and it joins our Performance Series P256 at the top of its range, for enthusiasts who want the fastest speeds and plenty of space available for their pictures, music, and videos."

All Extreme Series SSDs feature end-user upgradable firmware to allow for new features to be added, such as the upcoming TRIM command for Windows 7 and other operating systems, which maintains optimal performance over time. Support for the Extreme Series, including future firmware upgrades is available at corsair.com.

The Corsair Extreme Series X256 solid-state drive is available immediately from Corsair's authorized distributors and resellers worldwide, and is backed by a Two-Year Limited Warranty. Complete customer support via telephone, email, forum and Tech Support Express is also available.

For more information on the full line of solid-state drives from Corsair, please visit corsair.com/ssd.