CoolIT liquid-cooling for HD 4870 X2: overclock GPU to 880MHz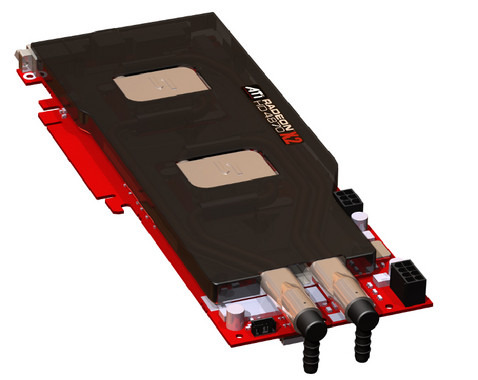 They may not be the first liquid cooling system for the ATI Radeon HD 4870 X2 that we've seen – Asetek's setup yesterday beat them to it – but CoolIT's does have the bonus of being marketed to consumers not just OEMs.  CoolIT worked with AMD to develop a liquid cooling system that would make overclocking the X2 both straightforward and stable; in fact, they can push the GPU up 13.5-percent, and the memory up by almost the same amount.
"We recently benchmarked this card using 3D Mark Vantage and increased the Graphics score from X7125 at stock settings to X8148 which represents a performance increase of well over 10%" Geoff Lyon, CEO of CoolIT Systems
In testing, the liquid cooled cards were stably clocked up to 880MHz (13.5% Increase) core clock speed and the GDDR5 memory pushed to 1GHz (11% increase). The setup requires two drive bays.
The CoolIT liquid cooling system is set to launch in September. The company is yet to release pricing information.