Asetek Liquid-Cooling For ATI Radeon HD 4870 X2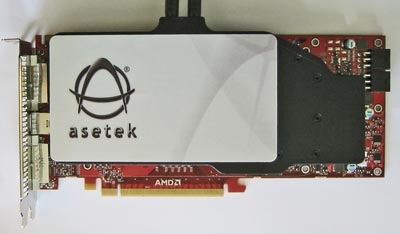 The new ATI Radeon HD 4870 X2 is certainly the latest hot property in the video card industry, but it's also likely to be hot property in your desktop.  So it's no surprise that we're seeing the first liquid-cooling system for the Radeon only days after it was announced: Asetek claim their system reduces GPU temperatures by as much as 28-degrees.
Not only do you have heat reduction, but sound reduction as well.  The heat exchanger fan runs at a mere 30dB, which Asetek helpfully describe as the equivalent of a loud whisper.  Finally, since you don't want a case full of cooling fluid sloshing around your brand new dual 4780 XS CrossFireX setup, the company guarantees a 50,000hr operational lifetime, safe from shock, vibration and thermal stress.
Unfortunately the Asetek setup is currently OEM only, and there's no word on either which partners (if any) have signed up to use the liquid cooling or whether a consumer kit version is on the cards.  However it is available now, so expect to see systems boasting liquid-cooled 4870 X2's any time now.
[via The Tech Report]