CNN Touts First 24-hour Streaming Mobile News Network, For Some, Not All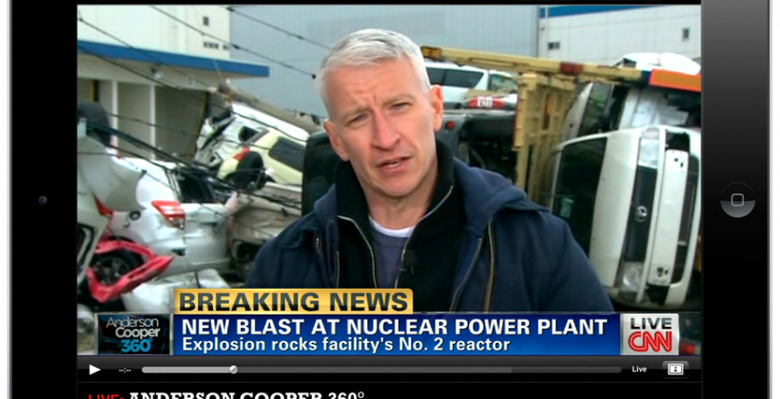 The folks at CNN can be proud today to call themselves the first ever news network to have fully active 24-hour streaming news via both new-world sources. The news team at CNN have CNN.com for anyone to view a 24-hour stream via their web browser at the same time as having Apple iOS apps for both iPhone and iPod Touch as well as iPad, all of these starting on July 18th, that being the day this post was published. This makes CNN Worldwide the very first news organization to stream its linear television channels online and via mobile devices owned by those who subscribe to a multi-channel video service.
This mobile service is currently only available to those participating in pay TV from the following providers: AT&T, Comcast, Cox, DISH Network, Suddenlink, and Verizon. Whether or not CNN plans on releasing this ability to watch their network on mobile to those not subscribing to Pay TV services is not known at the moment. Jim Walton, President of CNN Worldwide had the following to say on the matter – note his wording:
"A principal goal for CNN is to make more of our content available to more people on more platforms, and CNN's participation in the TV Everywhere initiative is another step forward in that effort," Walton notes, "We have long believed that our growth depends on keeping CNN essential and relevant to consumers wherever they are."
It seems to us that offering this stream free to all users (with ads, of course) would be the optimal way to get their message to "more people on more platforms." Instead this particular method will, unless it encourages more people to subscribe, only act to encourage the people who already have the ability to watch CNN in their homes to watch it even MORE while they're out and about, mobile if you will.
CNN is also spreading the word today of their "new video experience" in which the user will be able to use a cinematic player that optimizes the video quality for a user based entirely on their internet connection speed. This cinematic experience will bring HD quality to your desktop.
You can grab the iOS apps from the iTunes App Store right now!