Clevo IP54 ruggedized touchscreen netslate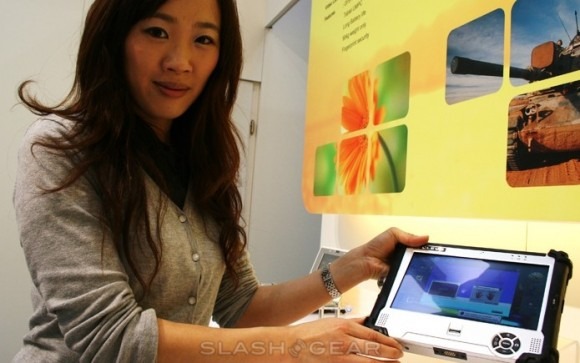 Lacking the power of the D900F, but a whole lot happier with drops and falls, Clevo's rugged 8.9-inch touchscreen slate uses the Intel Atom Z5x0-series processor and pairs it with a chassis that meets IP54 standards.  Provisionally known as the Clevo T89xM, the device is intended for outdoor workers such as engineers and surveyors.
As well as the 1024 x 600 touchscreen, D-pad controller and integrated speakers, there's Bluetooth 2.0 and a fingerprint reader for security.  Clevo were showing the device with an attached hand-strap, which fits over the hand like a glove and allows for use of the device when walking.
No word on pricing for the touchscreen slate, but we're expecting it to hit the market in early Q3 2009.  We're hoping to have more specification details today.