Clevo D900F 17-inch Core i7 monster notebook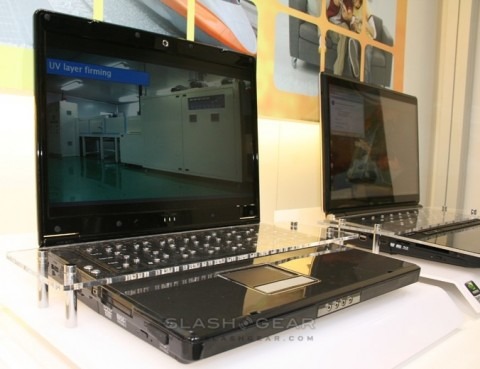 Its sober, squared-off chassis may look uninspiring, but under the hood the Clevo D900F notebook is anything but shy.  The D900F packs a choice of Intel Core i7 processor with the X58 chipset, together with three 500GB hard-drives and NVIDIA's G280 GPU with 1GB of memory.
As you might guess, this makes it very much a desktop replacement rather than an ultraportable.  That's given Clevo room to slot in an HD-friendly 17.1-inch WUXGA 1920 x 1200 LCD and a TV tuner, together with an HDMI output, Dual-Link DVI and eSATA, among plenty of others.  There's also a Blu-ray burner.
Buyers will be able to choose between Intel's  2.66, 2.93 or 3.2GHz Core i7 CPU, while RAM for the D900F is Intel's Turbo memory with up to 8GB of DDR3 available.  Users will be able to choose between RAID 0, 1 or 5 for the three drives.  No word on pricing, but expect it to be expensive when it lands in Q4 2009.