Clarion MiND GPS MID gets $650 November release; 3G coming Spring 2009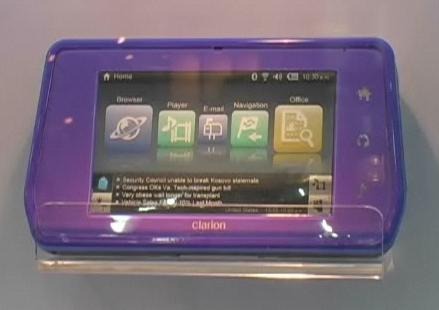 Clarion have set both a price and a more specific release date for their MiND GPS Mobile Internet Device hybrid.  The touchscreen unit, announced back in January, will launch in the US and Canada in November 2008, priced at $649.99, with a European release following in January 2009 for €649.99.  Clarion have also given more detail on the MiND's functionality, together with confirming that a 3G-equipped version will be released in Spring 2009.
The MiND uses an 800MHz Atom processor with 512MB of RAM, 4GB of SSD storage, WiFi b/g and Bluetooth 2.0.  It will include the Bluetooth DUN (Dial Up Networking) profile to connect via a wirelessly tethered cellphone.  Navigation is courtesy of a SiRFstarIII 20-channel GPS module, while battery life is rated at 2hrs from the small battery or 4hrs from the large.

A windshield/dash mount kit and car charger will be included, along with the regular AC adapter, but there will be an optional car dock that enables the MiND's RDS-TMC traffic info system.  OS is Linux 2.6.22 while the browser is based on Firefox and supports Flash for online media and video.  More details in the press release.
[via Pocketables]