Cicret puts Android on your skin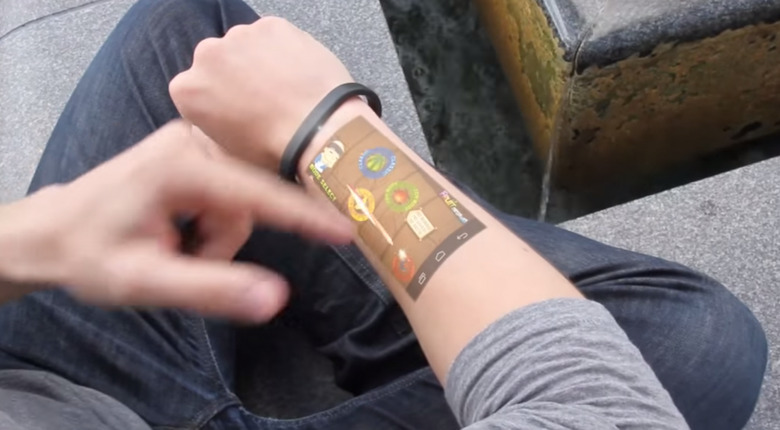 Cicret is a bracelet, a smart wearable that allows you to work with a user interface we currently associate only with a smartphone or a tablet. Cicret is not a smartwatch. Nor is it a smartphone or a tablet. Instead, Cicret is a bracelet that works with a pico projector, 8 "long range sensors", and all the hardware required to run Android and the apps Android runs. Tap your wrist just as you would a smartphone, and play games on your arm on the go – no more smartphone necessary.
This isn't a Digital Tattoo. Instead, it's a projected image coming from a projector that sits comfortably on your wrist. Thus far Cicret is just a prototype, and all the image you see here are mocked up.
Below you'll see the first demonstration of Cicret in action – again, note that the image you're seeing are mocked up.
At this moment you should be aware of two things:
1. Cicret is not taking part in any crowdfunding ventures, but are accepting donations direct through their webpage. We tend to stray AWAY from funding ventures like these because they include no guarantee for the consumer – I.E. you.
2. Cicret suggests scammers are taking to the web saying they'll be selling Cicret before they launch. At this time, December of 2014, Cicret has not released any product you'll be able to buy any time soon. Don't be fooled.
The creator of this device prototype has an app that has little to do with the bracelet, also called Cicret. It's a messaging app made for secure transfer of data – we've not tested it and cannot suggest whether or not it should be used at this time.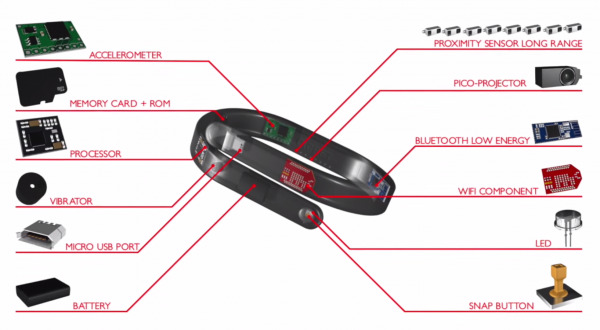 Above you'll see the components the creator of this device suggests it'll be comprised of. Would that a device like this were ever to exist, we'd certainly be pumped up to take a peek at it.
This might very well be the next wave – in some form or another. It's just not entirely realized or solidified just yet. Patience! Just watch the Wearables portal and all shall be revealed in time.