chumby One MiFi Easter Egg revealed; down to $100 in Costco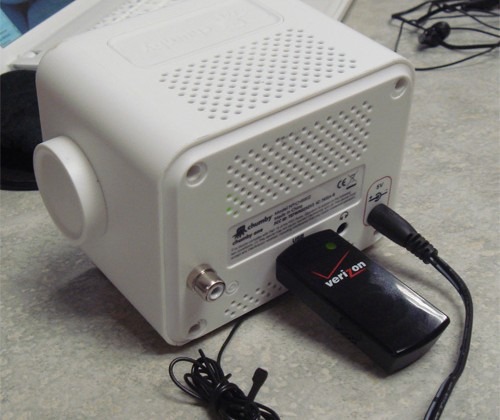 Nothing like a hidden Easter Egg to brighten up a gadget, and with the news that the chumby One is now available at Costco – and, at $99.99 with free shipping, bizarrely $20 cheaper than chumby themselves are selling it – company founder "bunnie" has revealed that you can turn your touchscreen device into a 3G MiFi of sorts.  Plug in a 3G USB modem into the back of the chumby One, and you can apparently use its WiFi chip to share that connection among multiple wireless clients.
To be fair, the Easter Egg hasn't exactly been hidden – it's mentioned in the chumby wiki – but turning the One into a 3G router isn't something the company have been shouting about either.  It doesn't just have to be a 3G connection, too; if you have a USB ethernet adapter then you can share that instead.
Of course, unlike a true MiFi there's no battery for standalone use, and you'll need to be comfortable using ssh to connect and set up the sharing, but "bunnie" has been using it while staying in hotels (complete with the chumby One's own internet radio and widgets working) and has found it works very well.  Now we just have to hope a helpful developer comes up with a custom widget to make the whole thing a little more straightforward to the idiots (like us) in the audience.