chumby one coming November: cheaper, more serious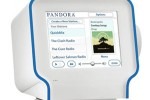 The original chumby – a hacky sack with a WiFi-enabled touchscreen widget engine stuffed inside – perhaps confused more people than it converted, but the company isn't giving up.  Details on the chumby one have emerged, keeping the 3-inch 320 x 240 display but boosting the processor to a 454MHz chip and packing all that into a hard-shelled plastic casing.  There's also a built-in FM radio along with stereo speakers.
chumby's widget catalog now amounts to over 1,500 apps, including social networking integration, news and weather apps, Pandora and other streaming radio receivers and more.
What it still doesn't seem to have – at least, as far as we know right now – is a battery, which means while your internet access is wireless, you'll still be tethered to an AC adapter.
The new chumby one is expected to arrive in November, and retail for an altogether more affordable $100 or thereabouts.  That's a whole lot more reasonable when you consider standalone WiFi radios tend to be priced at a similar point, but that the chumby one will deliver far more widgety flexibility.