Chromecast closes gap on Roku for streaming dominance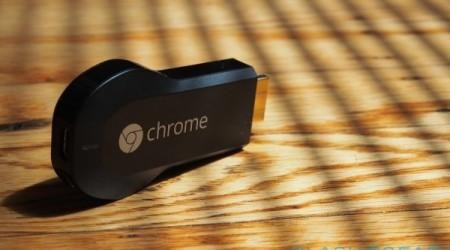 If you've not yet bought a Chromecast, what's stopping you? Google's tiny streaming stick gets better all the time, and works pretty seamlessly with your existing apps (at least those supporting it). Not having a Chromecast seems silly, and you might soon be in the streaming minority if you've not yet snapped one up. A new report shows Chromecast as the number two streaming device in the country, behind only Roku's legacy system. It's even more popular than Apple TV.
This info comes courtesy of Parks Associates, who measure streaming device popularity in the US. In 2012 and 2013, Roku reigned supreme, only seeing a mild challenge from Apple TV for overall market share.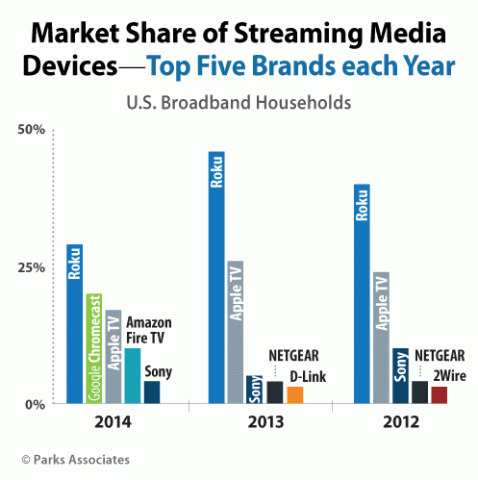 In 2014, though, streaming is realizing parity like never before. Roku's share of streaming is almost half of what it was a year ago, and Apple TV has also taken a dive. In its place are two contenders not seen on last years chart in Chromecast and Fire TV.
Parks Associates also says by the end of the year, 25% of homes in the US will have a streaming device, with the low price-point making them popular gifts this holiday season. We're already seeing the Chromecast for $24 or so, and the plug-in stick is much more attractive than a set-top box. That should only help Google compete, moving forward.
There's still hope for others, though. Roku has their own streaming stick that is finding its way, as does Amazon. Apple may not be playing the streaming dongle game like the others, but if they turn their Apple TV into a home automation hub, they'll have changed the game a bit anyway.
Source: Parks Associates
Via: 9to5Google