Amazon Fire TV Stick Review - A Prime no-brainer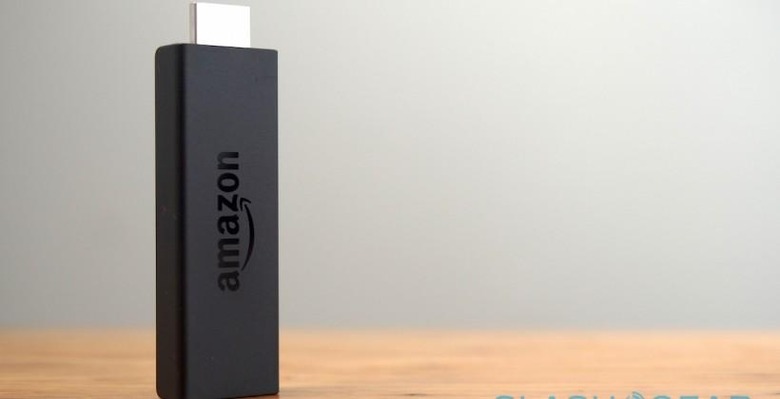 Amazon may have been late to the streaming box game with the Fire TV, but the retail behemoth isn't letting that initial tardiness hold it back, following up with an even more affordable way to bring on-demand content to your living room. The Amazon Fire TV Stick comes in at just $39, undercutting Roku and just a few dollars more than Google's Chromecast, and offers – in broad strokes at least – the same multimedia prospect as its more expensive sibling. At less than half the price of a Fire TV, though, have so many corners been cut as to suddenly leave Jeff Bezos' dongle unsatisfying? Read on for the full review.
Out of the box you get access to Amazon's catalog – including all of the free Prime streaming content, if you're a subscriber – along with most (but not all) of the popular third-party services. Netflix, Hulu Plus, YouTube, Crackle, Twitch, and Pandora are onboard, but HBO GO isn't expected until sometime in 2015. Each will play at up to 1080p, service and bandwidth allowing.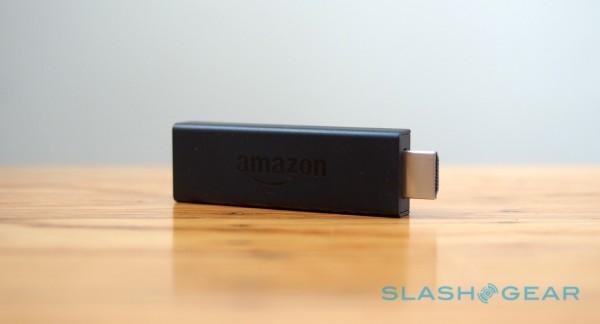 Meanwhile, if you've been diligent about uploading your own photos, music, and videos to Amazon's cloud, you can also stream those to the Fire TV Stick. The well-regarded Plex app is supported too, for streaming content from a local source like a NAS or media PC.
Setting the Fire TV Stick up is one of the easier experiences you can have in home entertainment. The stubby black plastic dongle – unmarked apart from a glossy embossed Amazon logo – slots into a free HDMI port and comes preloaded with your Amazon account credentials; assuming your TV can provide sufficient power through HDMI you don't need an external power supply, either.
Still, just in case, Amazon provides USB to microUSB cable to juice the stick from a TV's own USB port, and a regular AC adapter for use with a traditional outlet. There's also an HDMI extender cable, just in case things are too tight around the back of your set and you can squeeze the dongle in (it's a little slimmer than a Chromecast, though a little longer). One you turn everything on, all that's left is to add your WiFi credentials.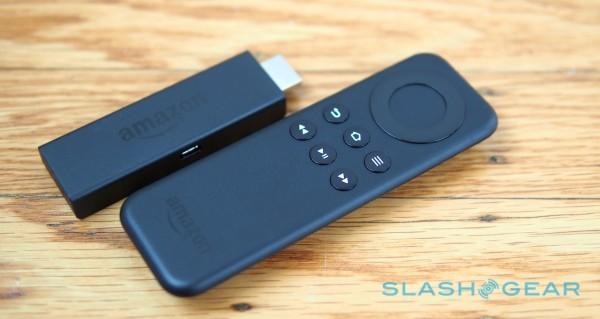 That simplicity comes at a cost of flexibility, though. There's no ethernet port, only dual-band, dual-antenna MIMO WiFi; I had no issues with stutter or lag from a wireless connection with the router across the room, though the absence of the fastest and most range-capable 802.11ac standard is a disappointment. The optical-digital audio output has been dropped, too, though I'd wager that's something only a small minority of users will be concerned about.
A physical remote control is something Chromecast still doesn't offer, though it's a pared-down version of what Fire TV owners have been using. You still get the (annoyingly clicky) D-pad, play/pause, fast-forward, rewind, back, home, and menu buttons, and it still connects via Bluetooth so you don't need to point it anywhere in particular, but there's no voice search key or built-in microphone.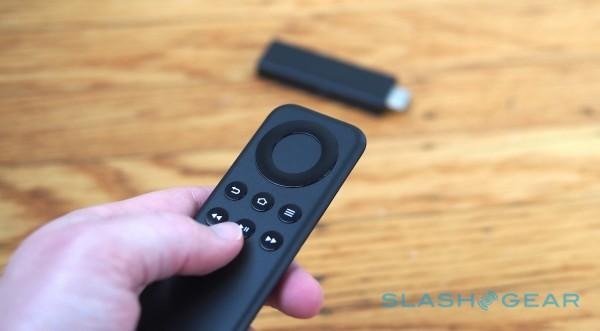 It's not that the Fire TV Stick doesn't support voice search, though, only that it got lost from the basic package for cost reasons. For $29.99 you can get the original remote and enable voice search that way; I was able to pair my Fire TV's remote with the Stick and it worked as expected: hold down the button, speak into the top, and after a few seconds of thought you get a (generally fairly accurate) search term on-screen.
If the thought of spending almost as much again on a second remote control rankles, however, Amazon also offers the voice functionality in its free smartphone apps. Initially they're available for Android devices and Amazon's own Fire Phone, but there's an iPhone version in the pipeline. It works just as you'd expect, basically replicating the more advanced remote control in software form.
That's not the only place Amazon has saved a few bucks. The core hardware of the Fire TV Stick is more humble than what you find in the regular Fire TV box – there's a reason, after all, that they're going to coexist as a range. Where the Fire TV has a quadcore 1.7GHz Snapdragon 8064 processor and 2GB of memory, the Fire TV Stick has a dualcore Broadcom processor and 1GB of memory.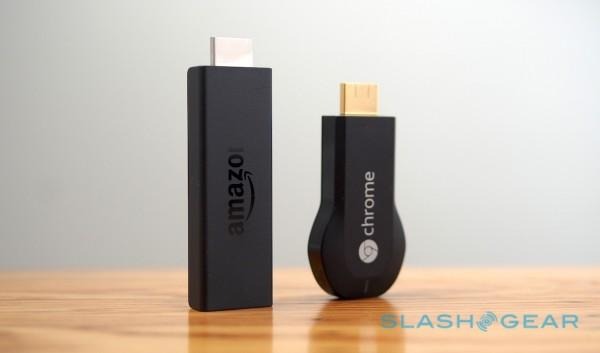 On the one hand, that's still more than the single core processor you'll find in a Chromecast or Roku Streaming Stick, not to mention twice the memory of either of those rivals. Side-by-side with the Fire TV, however, and the Amazon stick was noticeably less swift in navigation and how fast apps load. Not enough to frustrate in day to day use, but sufficient to make me wonder whether the games that work so well on the regular Fire TV will be as smoothly playable on the cheaper version.
Sure enough, not only do games run a little more sluggishly on the Fire TV Stick, there simply aren't as many to choose between. Amazon's store has only around half the gaming titles for the Stick, with Dead Trigger 2 and Asphalt 8: Airborne notable for their absence. It makes paying $39.99 for the optional Bluetooth Fire Game Controller even less tempting, frankly.
The same criticisms I have of Amazon's Fire TV interface carry over to the cheaper Stick. Amazon's categories feel unduly limited: you never get more than 150 titles in each section, and while that may sound like plenty, there's a huge amount of duplication with some movies showing up in multiple genres. There's often a sense that there are more choices out there just waiting to be watched, but you have to either search for them specifically or rely on them surfacing in the "Customers Also Watched" bar at the bottom of each title.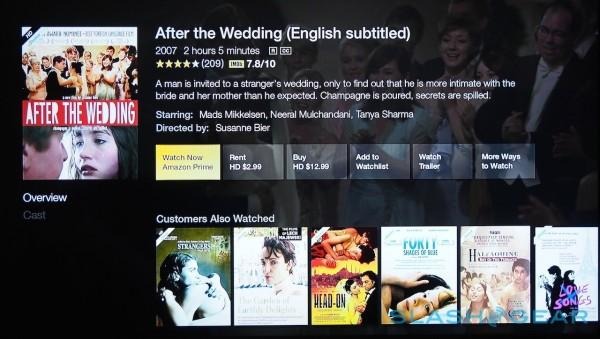 Perhaps unsurprisingly, Amazon is very good at delivering its own information front and center, but not so great at doing the same for third-party providers. So, while movies and TV shows available for free through Prime or Hulu Plus will be flagged as such, you need to purposefully switch over to the Netflix app and cross-check its catalog if you want to make double-sure of what your free options are.
Similarly, voice search has only been partially implemented. As it stands, it'll search across Amazon's own catalog, Hulu Plus, Crackle, Vevo, and Showtime Anytime; anything else – including Netflix – is left out in the cold. If you don't have either the remote or the app to do voice searches, meanwhile, you're left with Amazon's fiddly and annoying on-screen keyboard, punching in queries for which is an exercise in frustration thanks to everything being in an alphabetical row rather than a QWERTY layout.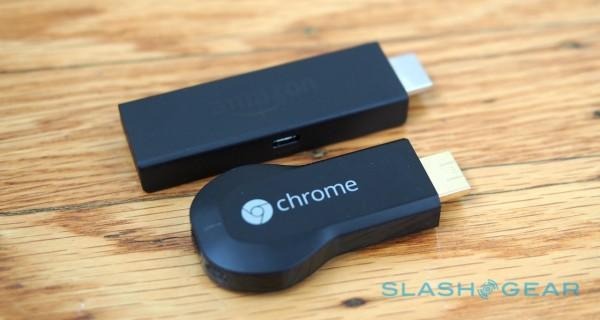 If you've used Roku's truly universal search – albeit with no voice support – then Amazon's partial catalog hunting will rankle. On the other hand, for being made by a company with search in its DNA, Google's Chromecast feels a lot less capable there. If Amazon and Roku's sticks are self-contained little media worlds, then Chromecast is effectively a doorway for your phone or tablet to get through to your big-screen TV.
Some love that flexibility, flinging content across the living room from the app they're currently using, whereas others are going to prefer the familiarity of a remote and leaving their phone in their pocket.
Wrap-Up
For a Prime subscriber on the fence about a $99 Fire TV, the Fire TV Stick is a no-brainer. The ease and convenience of getting Amazon's growing catalog of free content on your TV is certainly worth $39, while day-to-day niceties like a physical remote leave it feeling less geeky than a Chromecast.
If you're not a subscriber already, though, there are a few more things to consider. Amazon no longer bundles a year's Prime in with either Fire TV version, so factor in $99 every twelve months if you want the best media experience on the Stick. Without it, the absence of HBO GO and the mediocre Netflix app – I still prefer the Netflix implementation on Apple TV, as it's easier to browse through – become more noticeable.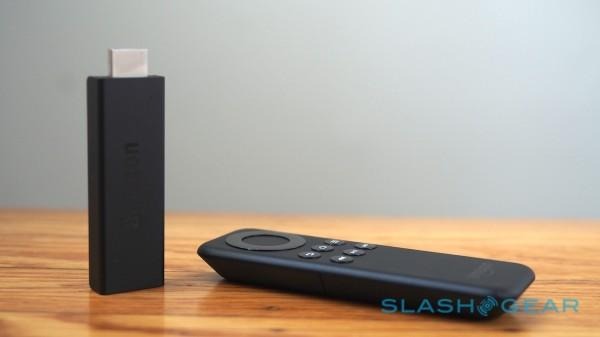 The target audience here is more than likely going to use Prime too, however, and while I found I missed native voice search, it's hard to argue with Fire TV Stick's price. It's also an affordable way to Amazon-enable a second TV, such as in the kitchen or bedroom, and as long as they're registered to the same account the "Recently Watched" history and Watchlist will be synchronized across both.
Those with a taste for gaming or a complete lack of patience when scrolling through their set-top box should look to the Fire TV first, but the Fire TV Stick excels as a low-cost, portable option for immersing your TV in Amazon's ecosystem.