Chrome OS Tool Lets You Run (Almost) Any Android App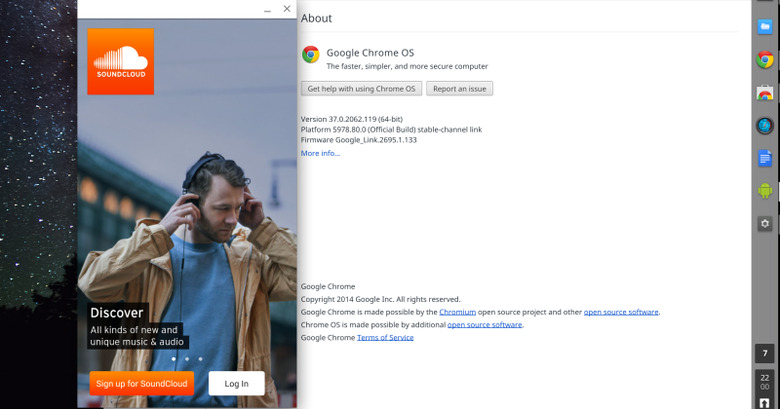 Can't wait to get your favorite Android app running on Chrome OS? Wait no longer as a new tool has been developed that will let you install Android apps on your Chromebook. The downside? You need to be really dedicated to the idea because the process isn't exactly easy.
Exactly a week ago, Google announced the first four Android apps that can now run on Chrome OS with nary a change in code. This is just the beginning of the fulfillment of a promise made at Google I/O 2014 in June. That said, the new App Runtime for Chrome OS that makes this possible is still in a testing stage and isn't yet widely available. Google promises to bring more apps eventually, but who knows when that will happen.
With chrome-apk, you yourself can make it happen, provided you have the knowledge or desire to learn how to do it. It isn't rocket science, but it isn't straightforward either and requires the acquisition and installation of separate tools. It's even worse for Windows users, as the process and tools have been tested and are semi-automated on Linux and Mac, but has to be performed manually on Windows. But before you embark on that adventure, you should first check if your Chromebook actually supports running Android apps by trying to install one of four official apps available.
Should you manage to survive unscathed, you will still hit a few bumps on the road, particularly the fact that you can only run 4 Android apps at a time. Why? It's because chrome-apk doesn't actually create a proper Chrome OS app that you can simply install like any Chrome OS app. It actually creates a Chrome extension that you can load, in developer mode of course, that replaces Vine Android app every time an Android app is run. Running another app will replace that Vine app again, so technically you can only run one app at a time. You can, however, have 4 Android apps running at the same time by getting it to replace the other Android apps as well, namely Evernote, Duolingo, and Sight Words. In theory, when more Andorid apps become officially available, you can expand that number too. Of course, you can't use any of those apps while chrome-apk apps are installed.
It might look like a very convoluted way just to get Android apps running on Chrome OS when Google has given its word that more will come soon. It does show, however, how extensible the Android and Chrome OS platforms can be, how resourceful some developers are, and how users can a wee bit too excited at times to the point of impatience. Hopefully it also shows Google and Android app developers how eager users are for this functionality so that they will pick up the pace to make hacks like this unnecessary.
SOURCE: Github
VIA: Reddit