Android apps are now running on Chrome OS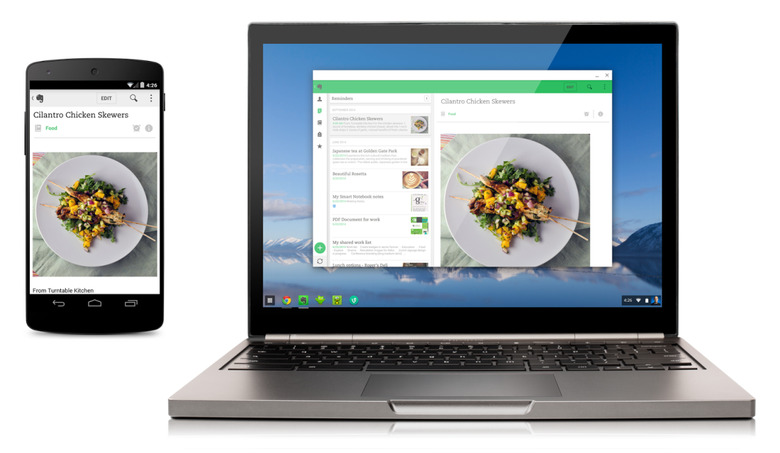 Everyone is going cross-platform these days. Microsoft's Windows is (by and large) Windows, regardless of what device you use it on. Apple's handshake deal between iOS 8 and OS X Yosemite keeps things separate but friendly, and now google is getting into the mix. The fist round of Android apps running on Chrome OS are live, with heavy-hitters like Evernote leading the charge.
Along with Evernote comes Vine, Sight Words, and Duolingo — all the very same app on Chrome that you'll find on Android. Originally announced at Google I/O this year, App Runtime for Chrome aims to allow Android apps to run in a new window on Chrome OS. Google isn't saying just how this works just yet, but you won't be able to use just any Android app on Chrome OS just yet. The program is in its early days, and Google is working with a select few Developers to get it up and running.
For those really on the go, this is big news. Chrome and Android provide a very solid solution for mobile productivity, and the ability to run the apps on either platform — and have them look and act the same way — will be a major selling point for both platforms.
As the program grows and adds more apps, this will really start to take shape. For now, it's more a proof of concept than actual robust angle to lean on for Google. We hope Google's promise of these apps working on both systems without much work needed to migrate them holds true, though, so more Developers will see what they can do for Chrome and Android users.
Source: Google