Android Apps On A Chromebook?! You Bet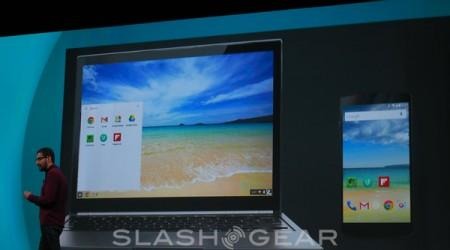 Chrome is one of those Google services you don't think much about. Chromebooks are one of the easiest ways to consume as much Chrome as possible, but at I/O we found out that it might be a new way to consume Android as well. With Chromebooks, it's going to be possible to run Android apps on Chrome OS in the near future.
Chrome OS already has Google Now notifications, but those are growing as well. We can now get notifications on incoming calls or text messages, and Chrome will even tell us when our smartphone battery is low. That linking to your phone will have additional benefits, too.
Android apps will soon have a home on your desktop — natively. You can run apps like Evernote on Chrome OS, and it will be the same experience you have on your tablet or phone. Even silly apps like Vine will work, and you can even shoot video or pics while linked. The program is in its early stages, but it's got a massive upside for Chrome and Android.
With that native handshake comes another neat feature — locking and unlocking. Like we saw with wearables, an Android smartphone can now unlock your Chromebook. Once the two devices recognize one another, your security pass code on Chrome OS goes away (because you're there). If you're not around, it goes right back to the password security feature you've enabled.