Chris Hadfield and crew safely return to Earth from International Space Station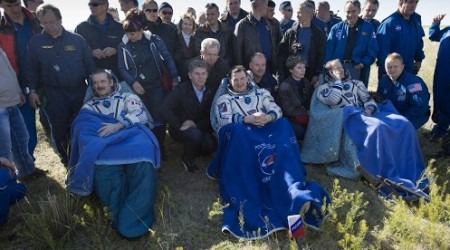 We get all sorts of welcomes in life, but few of them are as grand as the one you'd no doubt receive returning to Earth after having hovered above it for 144 days. Such was the case for Commander Chris Hadfield and the rest of his crew that was aboard the International Space Station, all of whom have just safely landed on our home planet in Dzhezkazgan, Kazakhstan.
According to NASA, which announced the safe arrival on its Google+, Expedition 35's crew landed in a remote area located outside of the tongue-twister of a city, Dzhezkazgan, after having spent nearly half a year on the International Space Station. The crew, listed from left to right in the image above, is: Commander Chris Hadfield from Canada, Flight Engineer Roman Romanenko from Russia, and Flight Engineer Tom Marshburn of NASA.
Hadfield, in particular, has become quite the popular individual, having actively engaged with an on-Earth audience multiple times from his position above, such as back in April when he answered a question on camera about what happens when wringing a wet washcloth. Just watching the process of spraying the water into the cloth is fascinating enough, not to mention seeing the water cling to the cloth and run down his hands.
While that demonstration, along with the others, his social media presence, Reddit AMA, and more have all been entertaining, we'd argue nothing tops his final stand yesterday when he bade farewell to the ISS by singing David Bowie's Space Oddity. The video shows some candid shots of our blue planet out the windows, as well as a what it looks like to wield a guitar in a gravity-free environment.
On May 10, two astronauts aboard the ISS were forced to take a spacewalk to repair an ammonia coolant leak that had developed in the space station, a particularly dangerous reality given that the station is powered by the coolant. Fortunately, all ended well, with Tom Marhsburn and Chris Cassidy replacing a pump controller over the course of 5.5 hours.
SOURCE: NASA (G+)