NASA fixes ISS leak with 5.5hr spacewalk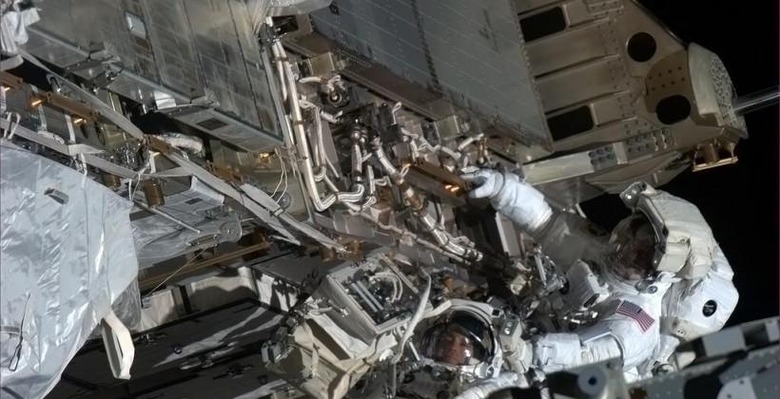 A five and a half hour spacewalk culminated in a replaced pump controller and no small amount of relief, as the astronaut crew of the International Space Station hustled to fix the ammonia leak spotted late last week. NASA had warned the ISS crew that they'd need to venture outside of the orbiting research platform on Friday, with Expedition 35 Flight Engineers Chris Cassidy and Tom Marshburn venturing out on Saturday afternoon to replace the faulty part.
The leak was spotted as flakes of frozen ammonia, escaping from the far port truss (P6), as the chemical – used as a coolant on the ISS – escaped from the faulty pump controller. Cassidy and Marshburn suited up and replaced the broken component with a spare that had been stored on the backbone of the space station, NASA said today, with initial testing indicating the problem had been fixed.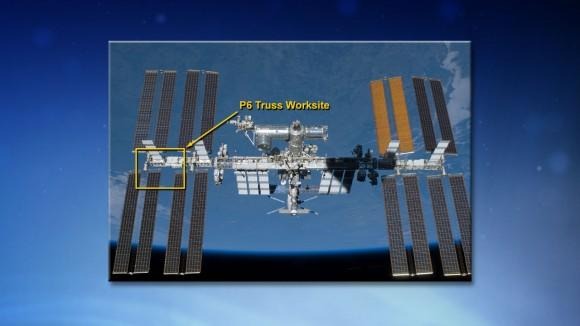 The exact cause of the fault has not yet been revealed, though it perhaps comes as no surprise that the truss should be presenting issues. The P6 section is in fact the oldest part of the ISS backbone, having been placed into orbit back in November 2000 as part of the STS-97 mission. That was back in the days when the Space Shuttle Endeavour was still flying; shuttle Discovery then moved the truss from its original location to its current spot on the ISS, in late 2007.
Although NASA insisted throughout the incident that the problem was not a life-threatening one to the crew of the ISS, it was nonetheless vital that the faulty pump be addressed as quickly as possible. The space station uses ammonia as part of its active cooling system, circulating the chemical around the extensible radiators that can be deployed when excess heat needs to be shed.
Usually, the ISS relies on passive cooling – such as heat pipes and insulation – to maintain a steady operating temperature. When that proves insufficient, such as when the electronics produce more heat than can be handled by the passive systems, arrays of roughly 50-foot long radiators unfurl to more aggressively control heat.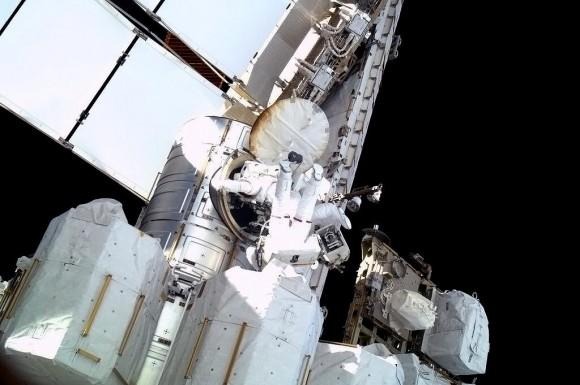 NASA live-streamed the swiftly-planned spacewalk, with cameras tracking the two astronauts as they maneuvered around the habitat. Today's outside mission was the most impromptu to-date, having been organized and staged with the least preparation time of any ISS spacewalk.
Initially, the concern had been that the specific fault would not be located. No external damage could be discovered, and NASA engineers recommended replacing the pump controller even though it was not certain that the part was, indeed, at fault. Commander Chris Hadfield, who has been on the ISS for several months, and who observed the spacewalk from within, took to Twitter to confirm that there were "no leaks" that could be seen, though NASA will continue to monitor the ammonia pressure remotely.