China's Chang'e-3 lander and Jade Rabbit rover launched Dec. 1 and landed on the moon yesterday without incident, and now we're getting footage of the event. The photos and videos show the moon up close and personal. We're also seeing shots of both robots on the moon, apparently in full working order.
Chang'e-3 soft-landed on the lunar surface yesterday evening at 9:00 p.m. Beijing time. Below is a video of the lander's controlled descent from the top-down perspective. Each pockmark of the moon is visible.
The pair waited a few hours before the rover rolled out at 4:35 a.m. Beijing time. Its exit was slow and careful as per the mission design. Check out the video footage below. The audio is keyed into mission control, where you can hear their applause of the team near the end of the reel.
The robots took some photos of each other for your higher-resolution enjoyment. The top image of this article is of the lander as taken by the rover. The one below is the reverse case. The images were released by China's Beijing Aerospace Control Center today. They come to us here by way of the BBC.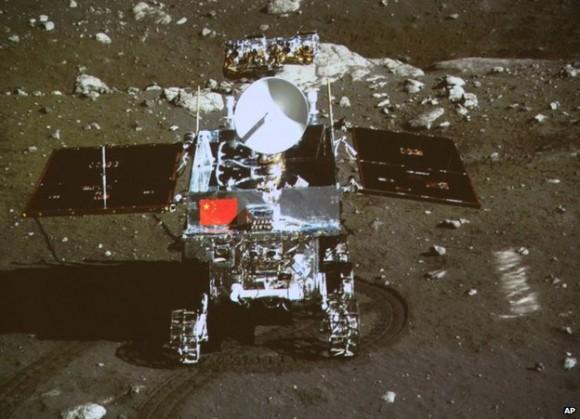 SOURCE: BBC