Just because you're in the same cars from the same car maker doesn't automatically make you buddies on the tracks. At the Rolex 24 at Daytona endurance race, even teams from the same brands need to be the best. And that is exactly what happened with Chevrolet's two Corvette C7.Rs teams, the No. 4 driven by Oliver Gavin and the No. 3 of Antonia Garcia, who ended up racing nose-to-tail for the grand crown. Luckily for Chevy, both cars did make it first to the finish line, just 0.034 seconds apart from each other.
Don't even try to imagine how fast that is, but 0.034 is definitely considered a tight race. It is, perhaps, especially amusing, and definitely laudable, that the last few minutes of the race would be between both Corvette racers. Of course, nothing spells victory like a double crown in the opening of the IMSA WeatherTech Sports Car Championship.
That said, it is perhaps no surprise that Chevy would have this race in the bag. Both cars have had a rather prosperous 2015. The No. 4, for example, won the 24 Hour of Le Mans while the No. 3 won both last year's Rolex 24 at Daytona and the Mobil 1 Twelve Hours of Sebring Fueled by Fresh from Florida.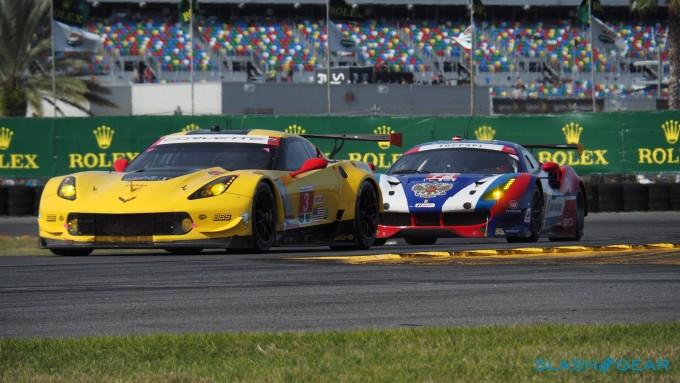 Of the different styles in the IMSA WeatherTech classification, the GTLM or GT Le Mans is commonly regarded to be the fastest on the race tracks. These cars follow the same regulations as the 24 Hours of Le Mans, the gold standard when it comes to endurance racing. Usually based on road car models, GTLM cars are tweaked to the fullest extent for maximum racing performance and usually serve as a testbed for many car makers, like Corvette, BMW, Porsche, and, more recently, Ford, who just returned to the racing scene.