Chevrolet shows off 2014 Corvette all-digital instrument panel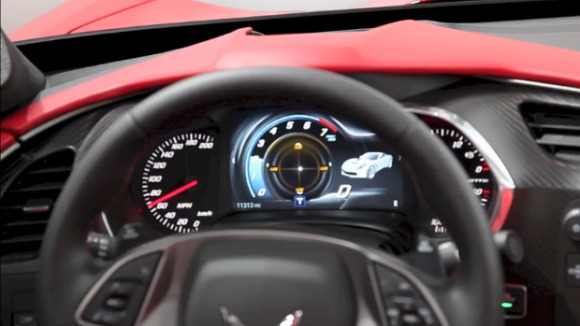 Before the 2014 Corvette C7 was officially announced earlier this week, we got a very short glimpse of the all-digital instrument panel back in November, thanks to a teaser trailer about the new car. From just the split-second look that we had, we could tell that the gauge cluster was going to be fantastic, and it looks like that's actually very true.Autoblog ended up getting a much closer look at the new instrument panel in the 2014 Corvette at NAIAS 2013, and it's about as stunning as you'd expect. You're essentially looking at an 8-inch "high-resolution" display that's fully reconfigurable, and it has three modes that you can scroll through.
Sport Mode features one large, central tachometer, and you can configure it to show different types of information, like G-forces, tire pressure, oil pressure, etc. Race Mode gives you a bar graph tachometer that's meant for it to be easily read out of the corner of your eye to make sure that drivers keep their eyes on the racetrack. Touring Mode allows drivers to push the tachometer off to the side a bit and make room for infotainment information or navigation information.
Off to the sides of the 8-inch display are regular instrument clusters. Off to the left is the speedometer, which maxes out at 200mph, and then off the right side, is what appears to be the fuel gauge and the oil pressure gauge, both of which are slightly blocked by the steering wheel, so we're not 100% sure, but this photo from Car and Driver gives an unobstructed view of the instrument panel.
[via Autoblog]