2014 Corvette trailer teases digital instrument panel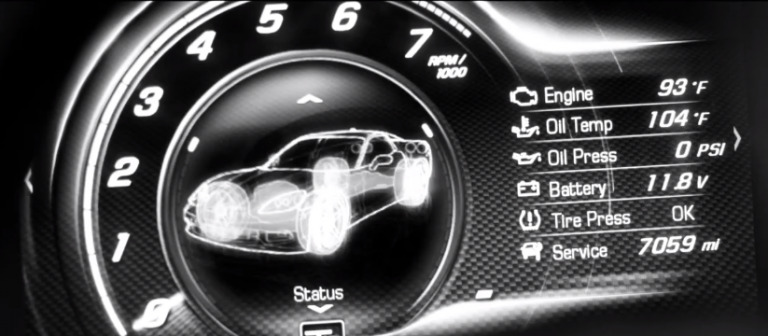 Chevrolet released a new trailer today that teases our senses even more about Chevrolet's upcoming 2014 Corvette. The video focuses on "calibration" and that the car "is a new level of electronic integration." However, what got us mostly intrigued were the split-second glimpses at the new Corvette's digital instrument panel.
We mostly just see the Corvette's tachometer in the picture, which maxes out at a little over 7,000 RPM, although the video showed the Corvette revving up to about 6,250 RPM with little effort. The panel seems to be all digital, and in the middle of display is a 3D layout of the Corvette that most likely displays information such as tire pressure and other status info about the exterior of the car, although, some of that info is displayed to the right of the tachometer as well. Also, in one of the shots, we get a very vague look at the speedometer, which tops out at 200 MPH.
What's perhaps most entertaining is that Chevrolet used a current-gen Corvette for the 3D layout of the car, so as to not reveal what the 2014 Corvette actually looks like. Overall, we're not too surprised by car manufacturers going all digital for their instrument panels. A lot of newer cars already have them installed, so it'll be a welcomed addition to the Corvette come next year.
The 2014 Corvette will be officially unveiled on January 13th at the North American International Auto Show in Detroit, MI — Motor City, as it's nicknamed. Until then, we get to wait in anticipation for what Corvette fans will soon get to drive off the dealer lots come mid-2013. We're pretty excited to say the least.